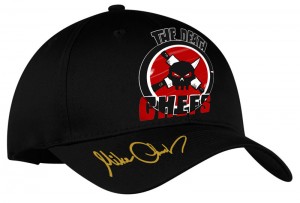 Mandeville, LA – It's that time of year again! The Death Chefs (Mike's competition bbq team's name) have begun their 2014 campaign to benefit the Hogs For The Cause charity bar-b-q event, . This benefits families with children suffering pediatric brain cancers.
It is great to talk about private charity over government subsidy but this requires following through. – Mike Church
This year Mike is adding a silent auction bid for 2 lucky fans to enjoy an evening and dinner with The KingDude himself including admission to the 2014 Hogs for Cause Gala Dinner Event (a $150 value) "The Seafood Jubilee" hosted by Hogs and "The Fatback Collective" featuring famous chefs from across the United States. Simply email your bid amount and full contact info to Maggie O'Connell, bidding closes Friday, March 7th. Opening bid starts at $300 per ticket.
PLEASE consider a cash donation in ANY amount OR making a purchase of a Death Chefs embroidered baseball cap-for $100 donation, a Death Chefs t-shirt-for a $50 donation or a Death Chefs embroidered & Mike Church autographed Chef Jacket for $500.
It is great to talk about private charity over government subsidy but this requires following through. Purchasing tickets to the event also help The Cause. Use the attached link to donate cash or purchase Death Chef Schwag, thanks in advance.
Hogs For The Cause was founded in 2008 by Becker Hall and Rene Louapre as an idea to recreate traditional Southern pig roasts. While the original idea was to grab a pig, a keg, and spend the day at the park with friends, after meeting Ben Sarrat Jr. they realized the true potential for such an event. In November of 2008, 4-year-old Ben was diagnosed with an incurable brain tumor. After meeting Ben and seeing his love of life in the face of such terrible circumstances, Becker and Rene decided to dedicate the first Hogs For The Cause on raising money to help Ben and his family. That first year was a success and Ben continued to battle, all the while with a smile and often times a joke. Tragically, Ben lost his battle a week before the second Hogs for the Cause in 2010. Ben's story only solidified Becker and Rene's desire to do whatever they could to help families struggling with the financial burdens of taking care of a child battling brain cancer.
Here is an e-mail I received from a listener, this is why we all do Hogs for the Cause:
"Mike,
I want to thank you for taking time out of your very busy schedule to participate in such a noble cause as Hogs for the Cause.  I made a small donation today in the memory of Amaya S..  She is the daughter of my sons favorite teacher at his school.  Amaya has been suffering from pediatric brain cancer for many years now. Unfortunately, she lost her battle this past Wednesday and passed away at the age of 13.  She was a sweet girl from an amazing family.  Please, if you would be so kind to add her to your prayers, we would be most grateful.
Sincerely,
Michelle M."