THIS PROMOTION HAS EXPIRED, THANK YOU TO ALL WHO TOOK ADVANTAGE OF THE GENEROSITY OF OUR PATRON.
"Recently, a very generous listener agreed to invest some of his wealth into an effort to help us attract 100 new, Yearly, Founders Pass members. Here's his offer: He will pay HALF of YOUR first year's membership!" Click to take him up on his offer
UPDATED, WE CAN STILL OFFER 100 72 18 MORE, 1/2 PRICED, YEARLY MEMBERSHIPS, FOR NEW MEMBERS TO JOIN, HURRY! AND PLEASE, IF YOU HAVE MEANS CONSIDER A FOUNDING BROTHER OR FOUNDING FATHER MEMBERSHIP
07, April, 2015 My Dear Friends, You expect a lot of great things to come from the Mike Church Show and my website mikechurch.com and we do our best to deliver. The show content that I publish and or turn into audio and video media for mikechurch.com & Founding Father Films/Publishing is expensive to produce and extraordinarily time consuming. Lately I have asked site visitors to consider a Founders Pass Membership to put our efforts back into the black. I am here today to tell you what his generosity means I can offer 100 of you: A One Year Founders Pass Membership at a FIFTY PER CENT DISCOUNT. But that's not all, we just raised membership prices for the first time since 2003 but we are offering the discounted memberships based on the OLD YEARLY MEMBERSHIP PRICE of $49.99 meaning you pay just $24.99 for your first year of Founders Pass Membership AND get all the great, EXCLUSIVE features current members receive! Won't you give us a chance to show you the benefits of having a Founders Pass membership for LESS THAN HALF of the current Yearly Membership's price of $59.99!
• Access to ALL transcript material & transcript archives (non members only see preview text)
• Access to ALL Daily  "Clip of the Day" (non members hear 90 second previews)
• Access to ALL Project '76 Audio "Webisodes" – Entertaining History to listen to on the go
• Access to ALL our growing collection of historical eBooks and Pamphlet downloads (non members see page previews)
• Access to ALL "This Day In Founding Fathers History" Videos
• Access to ALL Mike Church Show Band parody songs
• Full-Time 15% Discount in The Founders Tradin' Post
• Access to ALL our online events including LIVE-chats & webcasts
• For a LIMITED TIME, you can purchase a "I'm The Crusader Christ Warned ISIS About" t-shirt AND get FREE SHIPPING with your Founders Pass membership (expires midnight, Feb 15th) Details sent via member only newsletter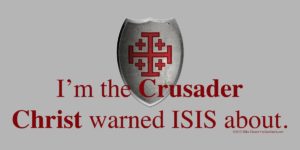 This is a tremendous opportunity for those who would like to continue their search for knowledge of the Constitution, The Founders, American History and Matters of Faith and you cannot beat the price. AND you would be helping to insure that I spend my time creating great content for you and yours instead of raising money to make that possible. Let's review: We're offering 100, discounted memberships based on the OLD MEMBERSHIP PRICE of $49.99 meaning you pay just $24.99 for your first year of Founders Pass Membership AND get all the features current members receive. I only have 100 of these super-discounted memberships to sell so HURRY, click this link to start your membership today. Of course, we are still very much in need of Founding Brother and Founding Father level members too, if you have the means and enjoy, learn are inspired or entertained by my work, please consider that option as well. I hope to be writing Thank You letters to at least a 100 of you very soon. Until then I remain, yours, with humble affection,   Mike Church