Mandeville, LA – Congratulations to Rusty LaMotte for being this week's CRUSADER Cocktail winner! Rusty describe the REFFING UNBELIEVABLE circumstances of this cocktail's Genesis.
This cocktail's history dates back to ………..actually it has no history. I created it today after Mass while snacking on some Tortilla chips and waiting on dinner to be served. I pulled together my best instincts and carefully studied various possible ingredients ……………… uh, well actually I just dug through my refrigerator to see what I could throw together that would go with Tortilla chips. It actually came out pretty good. Basically a Margarita/Tequila Sunrise mashup. On a day where we got to view a full Lunar eclipse called  a Blood Moon and a "no-call" against the Saints that made my eyes bleed, this cocktail is quite appropriate.
The Blood Moon Rising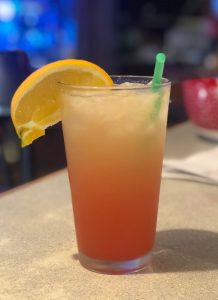 Recipe:
1/4 cup Orange Juice
1/4 cup Italian Grapefruit Soda
1/4 cup Limeade
1/4 cup Top Shelf Tequila
a dash of Grenadine
Mix the first four ingredients in a 14 oz chilled beer or Collins Glass. Shake to incorporate. Fill with crushed ice (if available) and drizzle a bit of Grenadine over the top. Garnish with Orange or Lime slice. Hatemail to NFL commissioner Roger Goodell is optional but advised.