Podcast: Play in new window | Download | Embed
Subscribe: Google Podcasts | Email | RSS
Mandeville, LA – Exclusive Audio and Transcript – We sit here and think that we can save this union as it is and we can fix this.  I keep asking the question: for what purpose?  Why do you want to fix it?  Can you tell me why?  If you can't get to the why, and I don't believe that many people can, then can you get to the why of why you want to divide it or why you think it might be prudent to divide it?  We're out of scale, folks.  It's totally out of scale.  Do you know what's managing this circumstance right now and becoming more and more apparent?  It's a four letter word, not a curse word, although it should be: fear.  Fear is managing this.  You fear. Check out the rest in today's audio and transcript…
Purchase an autographed copy of Donald Livingston's book "Rethinking the American Union" right here at The Founders Tradin' Post!
Begin Mike Church Show Transcript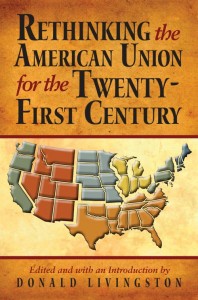 Mike:  Mike, you're next.  How are you?
Caller Mike:  Good, Mike, how are you?
Mike:  I am fantastic, sir.  Cheer up.
Caller Mike:  It's early in the morning, yet it's late in my day because I drive overnight.  My work schedule has allowed me to more regularly choke down the red pill.
Mike:  Good.  What's on your mind?
Caller Mike:  If I weren't driving, I might say with a little tequila, but that's neither here nor there.
Mike:  What can I do for you today, sir?
Caller Mike:  I believe his name was Roy that called in and mentioned Ron Paul.  I think some people have this impression of Ron Paul, and don't get me wrong, I would have much rather voted for Ron Paul and maybe I still will.  I haven't decided.  I think some people seem to think that Ron Paul on his own is some sort of a magic bullet for the situation.  Like you said before, if Ron Paul gets elected, he's not going to be the same type of president as Barack Obama that makes executive orders and defies Congress.  As far as Congress goes, the answer is defunding a lot of the bureaucracy.  When are we going to get to a point when Congress would actually have the will to defund such large things as the EPA?
Mike:  Never.  They don't have the will because the people don't have the will.  I say the people.  Somebody is telling pollsters, and I think that they're lying to them, that they want this to happen, they want budgets balanced and spending cut and this, that and the other.  Obviously this does not translate to votes across the political spectrum and across the country.  Someone, ones, are not telling the truth, whole truth and nothing but the truth.  I think it is the lack of character and virtue in the people that allows the nonstop theft and plunder to continue that is more at issue than it will ever be.  It is the Congress that must go and stand for reelection.  It is the Congress that has gotten away with not managing the fiscal affairs.  It is the Congress that has gotten away with not going back to the census and reapportioning the seats of the United States House of Representin'.
Are you really represented when your member of Congress represents 810,000 to 890,000 constituents?  Please!  The House ought to have, right now, about 10,000 members in it, if it were consecrated or ordered under the same mathematical formula as it were at the founding.  That's a simple fact.  You can look it up if you like, about 10,000.  As a matter of fact, there's a guy out there that runs a website thirtythousand.org, I think is the title of it.  That's the number, 30,000, although he even thinks now that that's not practicable.  I disagree.  I think it's totally practicable.  It's totally practicable because maybe there ought to be 16 federations.  Maybe one federation ought to say, "We're going to have a marriage amendment."  Maybe another federation will say, "We're going to drop out of your stupid federation.  We're going to be Republicans."  Folks, our lifeblood and our heritage in history, at every turn in all these problems we face, is screaming at us to divide this continent up.  It doesn't mean you can't have free trade.  It doesn't mean you can't have some harmony and felicity and exchange between what the divisions are.
With every fiber of our history, it is yelling at us from the past to divide.  Go to my website and get a copy of Donald Livingston's Rethinking the American Union.  Or if you don't want to shell the dough out, I understand.  Search for Livingston and read the transcripts from when the man was on the show.  We sit here and think that we can save this union as it is and we can fix this.  I keep asking the question: for what purpose?  Why do you want to fix it?  Can you tell me why?  If you can't get to the why, and I don't believe that many people can, then can you get to the why of why you want to divide it or why you think it might be prudent to divide it?  We're out of scale, folks.  It's totally out of scale.  Do you know what's managing this circumstance right now and becoming more and more apparent?  It's a four letter word, not a curse word, although it should be: fear.  Fear is managing this.  You fear.
End Mike Church Show Transcript