In that enormous silence, tiny and unafraid,
Comes up along a winding road the noise of the CRUSADE.
Strong gongs groaning as the guns boom far,
Don John of Manhattan™ is going to the war. – G.K. Chesterton
Mandeville, LA – Some glorious history was made yesterday but it wasn't an event most historians and educators these days will be anxious to report: President Donald John Trump became the first active U.S. President to address the March For Life in Mordor on the Potomac. Not only did Trump address The March, he did something I have been telling you since November of last year that he would do: he vowed to use his power as President to thwart the demonic efforts to legally murder the soon to be born by the Demoncrats, now in control of the House of Representin'.
After being introduced by passionate defenders of life and Christianity (yes, we should pray for VP Pence to return to The One True Church) Mike and Karen Pence, President Trump used his trademark TV bravado to inform Moloch's useful idiots, arch heretic Pelosi et al, that they will not be dancing 'round the mangled remains of soon to be born babies at taxpayers expense on his watch. (Full transcript below!)
Today I have signed a letter to Congress to make clear that if they send any legislation to my desk that weakens the protection of human life, I will issue a veto.  – President Trump
I have been stating an adage for 34 months now and it becomes more true every month as we also watch the TrannyMammy™ pandemic spread and claim the fertility, lives and souls of tens of thousands of teenage girls; the Irish now possessed with a Tnochtitlan-like zeal to murder the soon to be born and the U.K. increasing the number of their most innocent, murdered with government funds.
The demons are ascendent.
They've come for the children;
and they won't take no for an answer.
Now comes Donald John Trump, standing up to a world gone mad with diabolical zeal for the cult of death and using the highest office in the land, possibly the planet to proclaim yesterday as National Sanctity of Human Life Day. Folks, start praying for President Trump's conversion and for his protection, Baphomet, Baguul and the boys will not take this assault on their grip on hundreds of millions of souls lying down.
NOW, THEREFORE, I, DONALD J. TRUMP, President of the United States of America, by virtue of the authority vested in me by the Constitution and the laws of the United States, do hereby proclaim January 20, 2019, as National Sanctity of Human Life Day. Today I call on the Congress to join me in protecting and defending the dignity of every human life, including those not yet born. I call on the American people to continue to care for women in unexpected pregnancies and to support adoption and foster care in a more meaningful way, so every child can have a loving home. And finally, I ask every citizen of this great Nation to listen to the sound of silence caused by a generation lost to us, and then to raise their voices for all those affected by abortion, both seen and unseen.

---

---
Just yesterday, the Trump administration released new HHS rules making it easier for states to deny Medicaid funding for abortion providers, is this man for real or what!? The new HHS mandate actually repeals a previous, Dear Leader, Chairman MaObama edict that basically told the state governments to hand over cash to planned parenthood if they asked for it. Those days are over. Thank you, AGAIN, President Trump!  From yesterday's HHS mandate:
Rescinded Guidance that Limited States' Ability to Take Action Against Abortion Providers: In January 2018, CMS rescinded April 2016 guidance that curtailed states' ability to set reasonable standards for determining which providers can participate in their Medicaid programs.
Watch Trump's address below and join me in doing 3 simple things. Pray for the conversion of the Pence's and President Trump to the One True Faith. Pray to Our Lady of Fatima for the faithful zeal of Melania Trump through her own Holy Rosary and join many other CRUSADER Knights of the Most Holy Rosary confraternity in our daily, rosary petitions to end abortion, contraception, pornography and sodomy you can read here.
There have been 3 great "Don Jon's" in the history of the Catholic Church and indeed Western Civilization i.e. Christendom: Don Jon of Austria; Don Jon Lavolette of Malta and Don Jon Sobieski of Poland. I'd like to introduce you to the 4th Don John who stands in the crucible created by advancing demons, Mohametans and infanticidal maniacs: Don John of Manhattan™!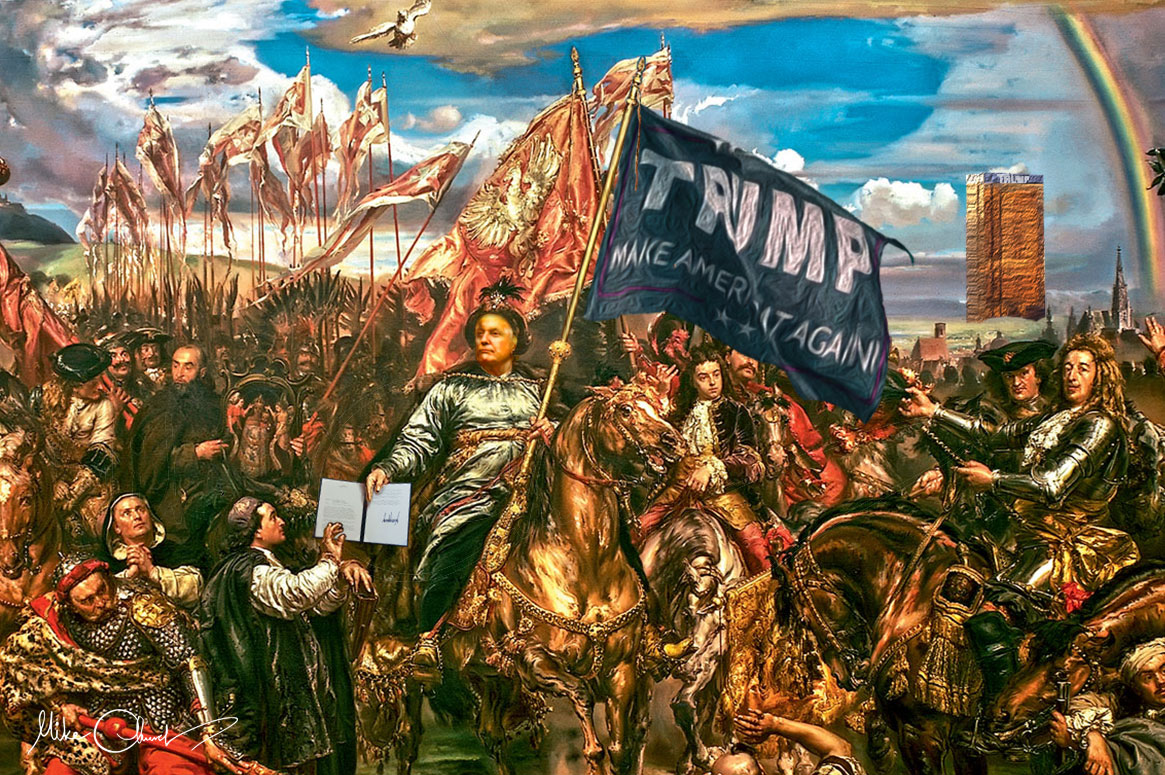 The G.K. Chesterton poem LePanto is one of Chesterton's best for it gloriously captures the victory at LePanto and the triumph of the rosary inspired and powered Holy Fleet. I've added an editorial touch to one stanza to pay homage to Don John of Manhattan™.
Dim drums throbbing, in the hills half heard,
Where only on a nameless throne a crownless prince has stirred,
Where, risen from a doubtful seat and half attainted stall,
The last knight of 'Muricah takes weapons from the wall,
The last and lingering troubadour to whom the bird has sung,
That once went singing southward when all the world was young,
In that enormous silence, tiny and unafraid,
Comes up along a winding road the noise of the CRUSADE.
Strong gongs groaning as the guns boom far,
Don John of Manhattan™ is going to the war,
Stiff flags straining in the night-blasts cold
In the gloom black-purple, in the glint old-gold,
Torchlight crimson on the copper kettle-drums,
Then the tuckets, then the trumpets, then the cannon, and he comes.
Don John laughing in the brave blue blazer curled,
Spurning of his stirrups like the thrones of all the world,
Holding his head up for a flag of all the free.
Love-light of Babies—hurrah!
Death-light of Abortion!
Don John of Manhattan™
Is riding to D.C..
FULL TRANSCRIPT OF PRESIDENT TRUMP'S ADDRESS TO THE 2019 MARCH FOR LIFE
I am very proud to welcome tens of thousands of families, students, and people of all faiths and backgrounds to our nation's capital for the 46th annual March For Life. This is a movement founded on love and grounded in the nobility and dignity of every human life. When we look into the eyes of a newborn child, we see the beauty and the human soul and the majesty of God's creation.
We know that every life has meaning and that every life is worth protecting, As president, I will always defend the first right in our Declaration of Independence — the right to life. During my first week in office, I reinstated the Mexico City Policy. We have taken bold action to protect the religious freedoms for doctors, nurses, and charities like the Little Sisters Of The Poor We issued a new proposal to prohibit Title Ten taxpayer funding from going to any clinic that performs abortions.
We are supporting the loving choice of adoption and foster care, including through the support of faith-based adoption services. And I am supporting the U.S. Senate's effort to make permanent the Hyde Amendment, which prohibits taxpayer funding for abortion in spending bills. Today I have signed a letter to Congress to make clear that if they send any legislation to my desk that weakens the protection of human life, I will issue a veto.
And we have the support to uphold those vetoes. Every child is a sacred gift from God. As this year's March For Life theme says, each person is unique from Day One. That is a very important phrase. Unique from Day One. And so true. I want to thank Americans who traveled all across the country to march for life, and I especially want to thank so many young people who give us hope for the future.
Together we will work to save the lives of unborn children, so they have a chance to live and to love, to thrive and to dream, and to bless our nation and reach their full and glorious potential. Thank you. God bless you and your families, and God bless America.