Podcast: Play in new window | Download | Embed
Subscribe: Google Podcasts | Email | RSS
Mandeville, LA – Announcing the long-awaited release of The 3 Disc Compilation of "Anthology" – The Mike Church Show Band 's Greatest Hits Parody Songs PLUS a 130 page autobiography of the band and Mike's early radio career.
If you're wondering what an "anthology" is, well it is the chronological story of the Mike Church Show Band with a twist: HOW did they make all those great parody songs!? Unlike a mere "Greatest Hits" compilation, Anthology will introduce you to versions of your favorite songs as Mike and the boys developed them AND includes the final "master" recording.
FREE PREVIEW of Mike Church's Anthology book! Read a FREE preview chapter of "Mike Church Show Band's Anthology"
In producing this collection Mike recovered versions of songs he didn't even recall saving like the Band's most popular song of 2006 Democrats Somewhere. Mike and Jimm Mosher restored the last version of the song made before it was discovered that G. Gordon Liddy would bail on his agreement to provide the answer to "What would G. Gordon Liddy do?". This story and many more are contained in the 132 page autobiography book that comes with this collection. There are  67 tracks of your favorites like:
Spyin' Eyes
Manuel Went Down to Georgia
The Obamaphone EBT Song (Kodachrome)
Work Like A Mexican
For the First Time EVER: "Mr. Jefferson LIVE"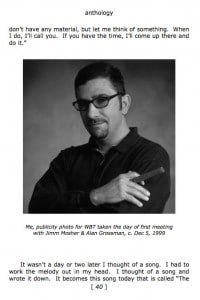 The Anthology Complete Works Book:
123 pages of pure history.  Mike takes you back all the way from the beginning….when it all started, to where he is today.  He gives you an inside look into what gave him the ideas of each song, how they came about to be and how he maneuvered vocals and tracks to give you the wonderful pieces of art you see here!
FREE PREVIEW of Mike Church's Anthology book! Read a FREE preview chapter of "Mike Church Show Band's Anthology"
 Disc 1 Playlist Includes:
1)  Spyin' Eyes, 2013 released exclusively for Anthology
5)  The Reverend Right Shady Heals,    January 2000
8)  Piss Poor DJ,    June 1999
9)  Christmas Beer,    December 1999
10) Get A Vasectomy,    March 2000
12)  The MC TV Show Theme,    April 2003
15)  Takin' Care of Liberals,    2013 released for Anthology
20)  ACLU,    August 2005
21) The Lib Boat,    October 2004
23)  50 Ways To Be A Liberal,    January 2005
24)  Tie A Purple Ribbon,    October 2005
25)  Gather 'Round The Holiday Tree,    December 2005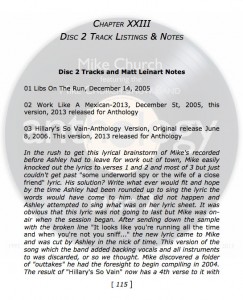 Disc 2 Playlist Includes:
1)  Libs On The Run,    December 2005
2)  Work Like A Mexican,    remixed for Anthology
3)  Hillary's So Vain,    remixed for Antholgy
5) There's Democrats Somewhere, November 2006
8)  Oval Office Dreamin',    June 2007
13)   Smokin' SUV Fumes,    November 2007
16)  Friday Is Hawaiian Shirt,    November 2007
17)  Still McCain,    remixed for Anthology
20)  Red Economy,    February 2009
21)  Here's To You Mr. Jefferson,    March 2009
22)  Last Train To Brokesville,    May 2009
23) Grandma Got Run Over by Obama, December 2009