Historic Cathedral of Nantes Attacked With Fire!
Mandeville, LA – Via Reuters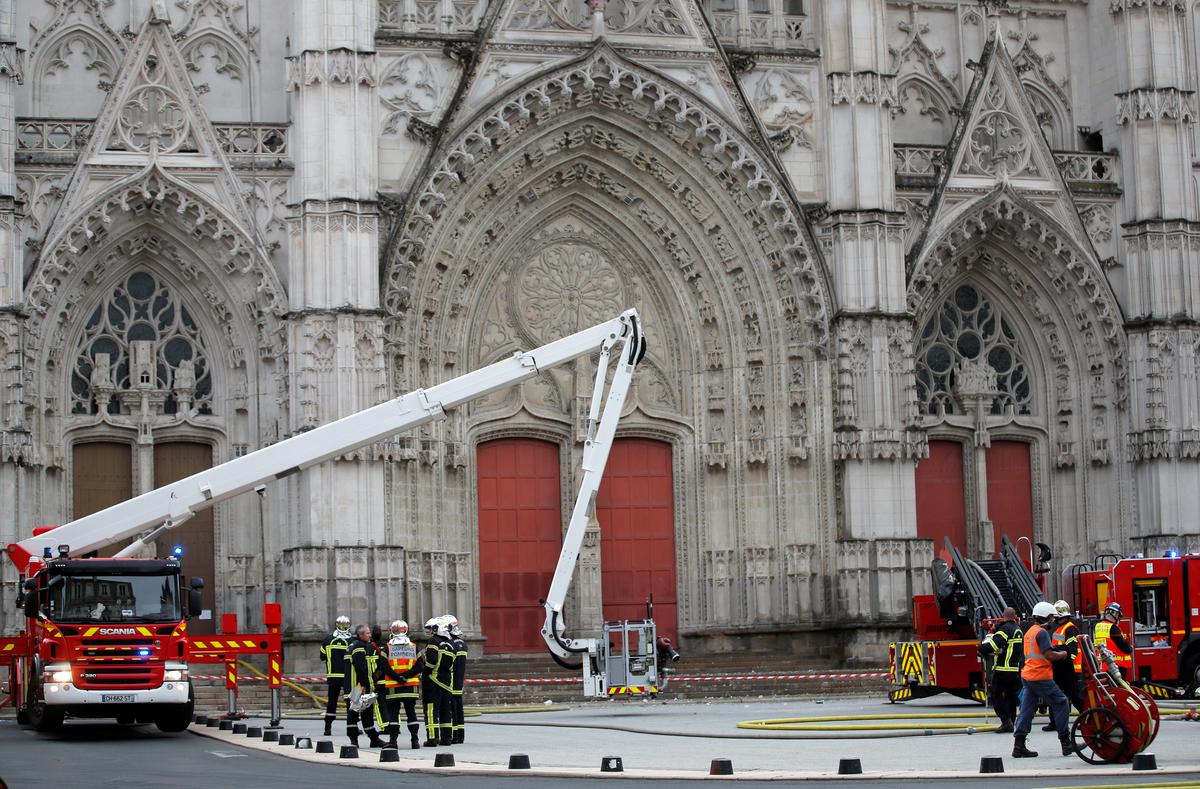 The fire began in the early morning, engulfing the inside in massive flames, and dozens of firemen brought it under control after several hours. Smoke was still coming out of the Gothic structure later on Saturday morning.
The blaze comes just over a year after a massive fire at the Notre-Dame Cathedral in Paris, which destroyed its roof and main spire.
"After Notre-Dame, the St. Peter and St. Paul Cathedral is in flames. Support to the firemen who are taking all the risks to save the Gothic jewel," President Emmanuel Macron tweeted from Brussels, where he was attending an EU summit.
Jean-Yves Burban, who runs a newsagent [meaning a newsstand] facing the cathedral, said he had opened his business and heard a bang at around 7:30 a.m.. He went outside to see huge flames coming from the building.
"I am shook up because I've been here eight years and I see the cathedral every morning and evening," he told Reuters. "It's our cathedral and I've got tears in my eyes."
Recall that in 2014 Nantes was the site of a terrorist attack on innocent civilians, via NBC.
The rise that begins in 2014 coincided with two vehicle attacks that occurred in France in 2014 — in Dijon and Nantes. The attacks caused one death and more than a dozen injuries, though recent vehicle attacks are far more lethal than what came before.
The cause of the fire in Nantes is suspected arson and the arsonists knew what to hit, the beautiful organ of the Cathedral shown below in this wikimedia commons photo.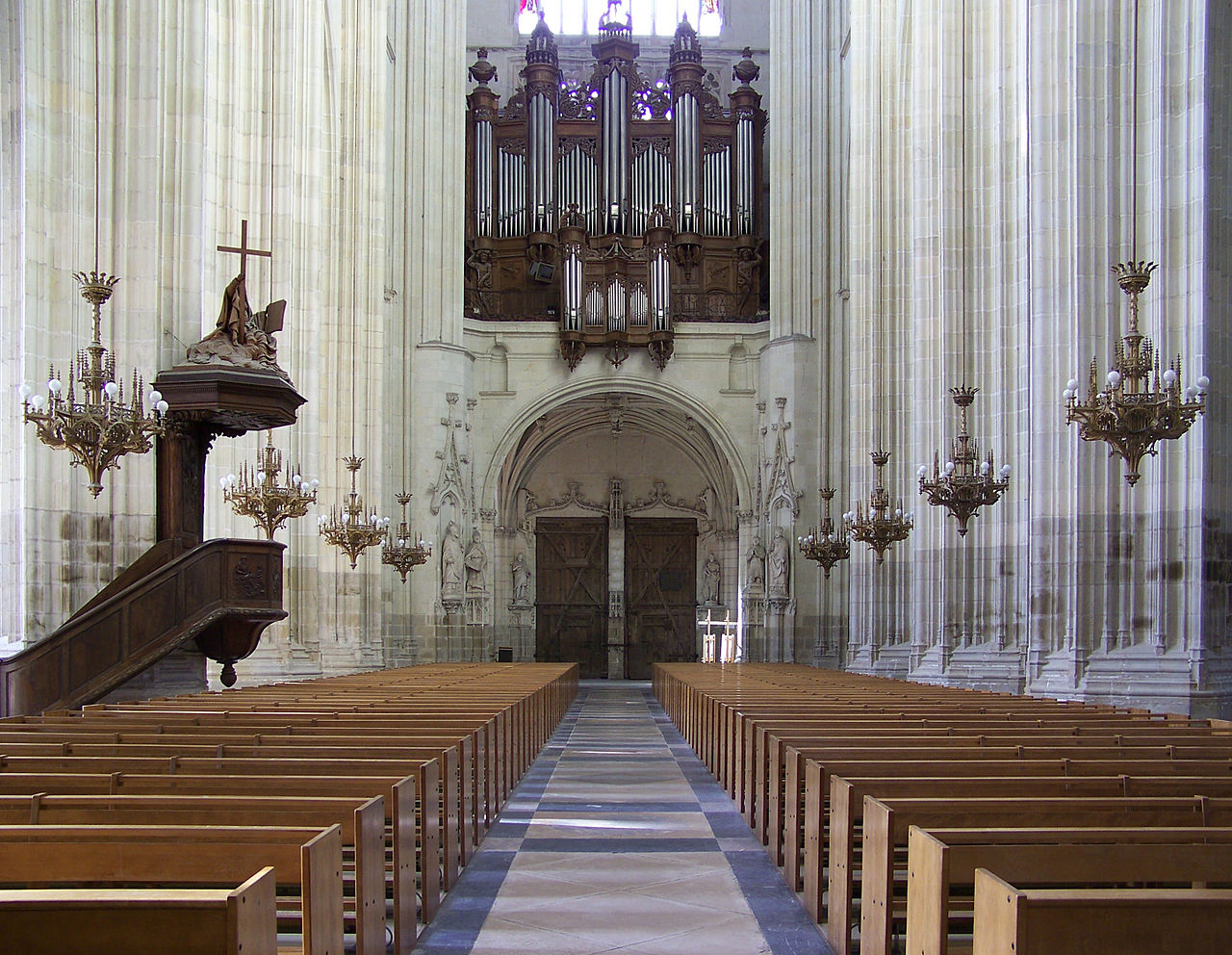 BIOGRAPHY
Mike Church Biography – "Too Catholic For Satellite Radio"
In May of 2015, Chris Ferrara wrote a bio pic essay on a talk-radio host who was then completely unknown to Catholic, talk-radio fans.
The Mike Church Interview: A Remarkable Conversion to Tradition Changes the Face of Political Talk Radio Featured
Chris wrote of me back then, words that were too kind but serve as a basis for this biography.
Indeed, over the past year or so Mike Church has emerged as the only traditionally Catholic conservative in talk radio today, anywhere in the world. And I mean traditional. Not only during my appearances on the show, but now thematically, Mike has turned the longest running political talk show on Sirius Radio into an unabashed presentation of the Social Kingship of Christ, traditional Catholic moral teaching, and even the traditional Latin liturgy as the solution to what is evidently otherwise a terminal civilizational crisis. I have been invited on the show numerous times to defend all of these things explicitly, to speak of the one true Church, and even to call upon conservative Protestants to enter the Church if they are serious about saving our nation and our civilization.
From there, on October 26, 2015, my 13 year run on Sirius Satellite Radio came to a close when my contract was not renewed. Chris would follow the above bio with an updated one titled, The Mike Church Show – Too Catholic For Satellite Radio.
MIKE CHURCH BIOGRAPHY FACTS
Born, February 2nd, New Orleans
Begun talk-radio in 1992, WSLA, Slidell LA, I have been off air a total of 7 months since.
Launched the Sirius Satellite Radio service as its FIRST – LIVE talk-show on 10 March, 2003.
Promoted to Morning Drive on the SiriusXM Patriot Channel, May 2009, the 3rd most listened to show on the platform
From July 2007 – present, founded Founding Father Films, wrote, produced, narrated and directed 9, full length audio features, two that made it to DVD!
Returned to the Roman Catholic Church's Tridentine Mass and Tradition in 2013. Consecrated to Our Lady via de Montfort's formula in December 2014.
I had been planning for SiriusXM to "whack me" since 2012 and had laid the structural groundwork for the next step in my career: launching the Veritas Radio Network and The CRUSADE Channel. On November 1st, 2015, in a video webcast for the press, I announced the VRN and that on November 15th, the Mike Church Show would be silent no more and would return to the air, this time on a platform custom built for LIVE talk radio. Smaller Government is Better! Avoid the Chastisement! It's your hitchhiker's guide to faux conservative news!