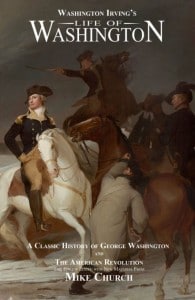 Mandeville, LA – The author of Rip van Winkle and The Legend of Sleepy Hollow should need no introduction. FOX TV is in the 3rd season of a TV version of Sleepy Hollow and Irving's other books still sell well. Still, few admirers of the founding fathers are aware that Irving's crowning literary achievement was the 5 volume biography of his namesake George Washington: Life of George Washington. Irving approached his project after putting it off for nearly 30 years while traveling and writing internationally.
THE HAND-MADE, 1876 REPLICA EDITION IS AVAILABLE BUT THERE ARE ONLY 10 COPIES! ORDER TODAY
In 1841 when he arrived back to his beloved home of Sunnyside NY, Irving set to work gathering materials for the task and was not content to write of Washington's amazing, 1776 retreats across nearby Long Island, Manhattan, White Plains and New Jersey's Palisades until he had surveyed the sites, personally. He spent month after month at the State Department building in Washington D.C., pouring over all the available correspondence of his subject. This after he had made a pilgrimage to Washington's ancestral home of Sulgrave Manor, England. This is the kind of detail and inspiration a storyteller seeks in biographies while a historian would be content with the literary and rhetorical record of his subject.
"First in war, first in peace, first in the eyes of his countrymen, he was second to none, in the humble and endearing scenes of private life."
The results of this effort and Irving's skill in crafting the story were immediate. The famous 19th century historian George Bancroft could not contain his praise for Irving's Life.
"[Y]ou have the peculiarity of writing from the heart, enchaining sympathy as well as commanding confidence; the happy magic that makes scenes, events, and personal anecdotes present themselves to you at your bidding." – George Bancroft to Washington Irving
Modern readers are going to become acquainted with a thrilling portrait of George Washington that has been largely lost to the mists of time. There has been no new publication of Irving's Magnificent "Life of Washington" since 1920 and no one has bothered to bring the work into the digital age, until now. Now, for the first time, this magnificent work has been fully digitized, corrected, embellished with more illustrations and footnotes and reformatted for modern readers by Mike Church and Founding Father Films Publishing.
Washington_Irvings_Life_of_Washington_Vol_1_Press_Kit
The new, modernized release of this classic text features:
• New Introduction Essay by Mike Church Telling The Story of Washington – A Brief History. • 435 Pages
• 8 Contemporary illustrations & engravings
• New Index included
• Newly formatted for modern readers
Washington_Irvings_Life_of_Washington_Vol_1_Press_Kit
Washington, Irving resolved to honor the homage by writing a biography of Washington. After spending nearly fifteen years in study and record collection Irving began his Life of Washington. Volume I debuted in 1853 and the finale, Volume V shortly after the author's death in 1858. Life reads like an adventure novel starring fallible, real characters, not a linear retelling of history as so many biographies of "founding fathers" do. Irving's gift for satirical narrative pushes Life along as no other biography of the eponymous George Washington does. This two volume edition is condensed from the 5 volume original work and contains a stirring portrait of the American Revolution seen through the sometimes flawed sometimes heroic eyes of its most famous participant, George Washington.