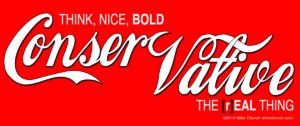 Mandeville, LA – Mike Church's daily Pile of Prep, chock full of the how a Fathers Day message ought to be delivered and why from TIC to Justin Rose plus other [r]epublican stories used to perform the Mike Church Show on Sirius/XM Patriot channel 125. "Therefore I say to son or daughter who has no pleasure in the name Father, "You must interpret the word by all that you have missed in life. Every time a man might have been to you a refuge from the wind, a covert from the tempest, the shadow of a great rock in a weary land, was a time when a father might have been a father indeed." – George MacDonald, A Devotional Guide to His Writings
Fathers Day post mortem: The Crisis of Fatherhood
VIDEO: Justin Rose, accepting trophy for U.S. Open win, delivers sorely needed comments on why fatherhood is important. "I wanted to carry myself in a manner that my children can be proud of." Wow, where do you hear THAT these days?
Rand Paul raps the Leviathan for waging war on christianity at Taxpayers expense, a point I have been making, very loudly of late
Rand Paul's editorial describes the lawsuit he, Louie Gohmert, Justina Amash and Thomas Massie are filing against the Feds
This Page is Supported by your Founders Pass subscriptions to this site, please take the tour and see all the GREAT CONTENT you are missing out on including Mike's Project '76 Webisodes™
3 reasons the shoeple babbling that "they have nothing to hide" and are therefore unconcerned that "the government is trying to protect them from terrorists"
They're listening. NSA briefing reveals the spy agency DOES listen to our phone calls, read our emails and all without a warrant
McCarthy: The national security "right" has surrendered the national security State
Hillary is "a formidable force on the left" declares Jeb Bush in what appears to be presidential candidate interview
53 Senators cannot find the time time to attend NSA intell briefing, apparently it is only fashionable to complain about not being informed about the spyfare State

Kevin Gutzman reviews new book about the life of forgotten Founding Father, Roger Sherman, he, of the Calvinist persuasion
Carney: Be afraid of the NSA surveillance state, because you are probably a criminal worthy of federal posecution
Sara Palin's return to the spotlight begins at the Faith & Freedom conference
Video: Vladimir Putin thinks you shouldn't tap people's phones or read their emails without a court issuing a warrant. Yay, Stalin!
Pickett's Charge – The story behind the story you were never told