Mandeville, LA – Exclusive Transcript – It's really what is at the heart of and the core of what Orwell was warning about in 1984.  This is what Orwell was also trying to drive the point across when he wrote Animal Farm.  This is what Bradbury was getting at in Fahrenheit 451 and others.  It's what Philip K. Dick is getting at in many of his sci-fi novels and sci-fi short stories about the future, looking at it to where man is not man any longer.  Man is a functionary of the State.  Check out today's transcript for the rest…
Begin Mike Church Show Transcript
Mike:  Alston is next on The Mike Church Show, in Tennessee.  Yes, Alston, how you doing?
Caller Alston:  Good morning, King Dude, big fan, man.  I have a 15-year-old stepson and he listens to you every morning, too.  Your history feature is great, I love it.
Mike:  Thank you very much.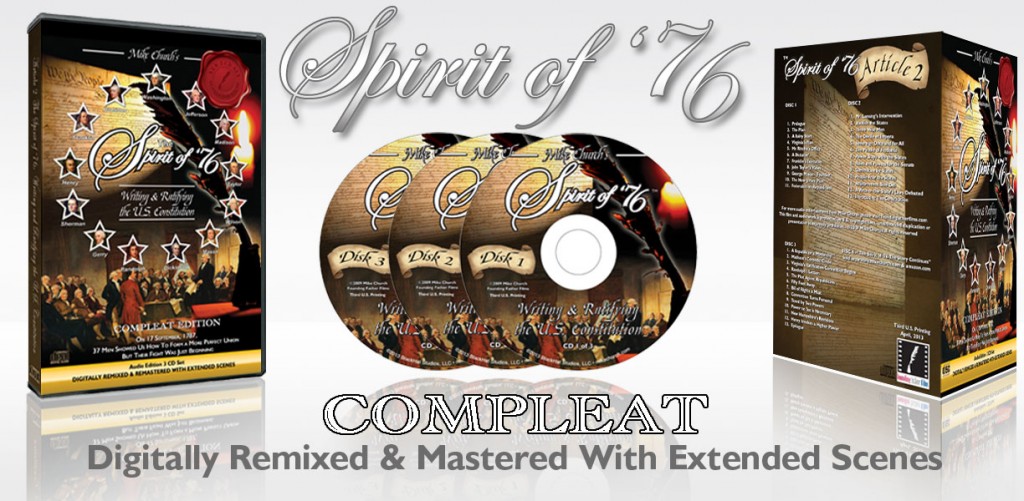 Caller Alston:  How do these folks get here?  I had an instance Monday, was in a major corporation — I drive a truck.  I got $3,000 worth of fuel a week.  I was buying my cigars.  I'm in there buying them.  A girl asks for my ID.  She takes my ID and she runs it across a scanner.  I said, "Ma'am, what'd you do?"  She said, "Our new policy is we have to scan it.  If it doesn't scan, you can't buy."  I said, "I don't agree with that.  You just took my height, my weight, my eye color, my driving restrictions, my home address, all this stuff to buy a cigar.  I didn't tell you you could."  She said, "Well, that's the way it is."  I said, "What's the reason?"  She said, "Well, because of fake IDs."  There at the counter, I pulled my pocket knife out, flipped my card over, and I scraped that damn barcode off.  That won't happen again.  It was by a corporation that's owned by our governor that was being raided Monday by the FBI at the same time.
Caller Alston:  How do we get to a spot where you need to know this information?  I've been going in this same store for 12 straight years.  How do we get to the spot where a little bit of common sense — the girl knows me but she was doing what the new policy was.  She should be at the spot where: Hey, I know that cat.  He's all right.  He's been smoking those cigars forever; he buys fuel here.  Just sell me the damn cigars.
Mike:  What you're describing is a lack of communal value.  In other words, the value that is placed on "Oh, yeah, I know him; he's my neighbor" or "Oh, yeah, he comes in here often" or "I see him around town" or "I see him at church" or "He's such and such's brother" or "He's my old friend from high school's husband."
Because populations have become so large and so centralized, you're not afforded the luxury, unless you live in a really small town where these sorts of things are known.  We're all only as good as our latest electronic identification says we are.  That's a dehumanizing concept.
It's really what is at the heart of and the core of what Orwell was warning about in 1984.  This is what Orwell was also trying to drive the point across when he wrote Animal Farm.  This is what Bradbury was getting at in Fahrenheit 451 and others.  It's what Philip K. Dick is getting at in many of his sci-fi novels and sci-fi short stories about the future, looking at it to where man is not man any longer.  Man is a functionary of the State.  Because he is a functionary of the State, he has a number.  That number has a value attached to it.
I don't know if you know this, Also, and I'm trying to remember the name of it, but there's a movie, and I think it's based on a novel.  I don't know if it was a Philip K. Dick novel.  I'm sure someone is going to call in or will tweet me the answer to this.  The State has grown so large and powerful and all-possessive of the kind of information that you and I are talking about that they can actually assign a value to everyone's life.  They know what Alston in Tennessee's life is worth.  If your life is not worth a certain amount, in other words if you can't produce certain things the State needs, you will be the product of an elimination campaign.  Of course, it'll seem like it's an accident or it'll seem like it's a genetic defect in your heart or something like that.  We'll systematically be pruning out those whose value is not what the State thinks it ought to be for productive or needful members of society.
When we lose community, which is what you're describing, what is there left?  If there's no community, what's left other than the computer to tell the operator at the convenience store that's not owned by "Sam Drucker" who you used to know and went to high school with?  It is now owned by the Umbrella Corporation — just to throw a name out there — that has offices around the globe and 16,000 of those little stores and over a million employees and is known to cooperate with governments the world over.   You're describing a lack of and the end of community as it was once known.  As I said, that is a dehumanizing thing.  Alston, the sad part about it is you should be looking for that to happen more often and not less.
End Mike Church Show Transcript