Mandeville, LA -Kevin Gutzman and I began appealing for an Article V Amendment Convention in 2009 and this culminated in 2010's "A Federal Discussion On an Article V Convention" held at the Mordor-XM Studios in April (with an assist from Tom Woods). In 2014 Mark Levin who had for all of 2008-09-10-11-12 and 13 castigated Kevin and me as "back benchers" and "marginal college teachers" for the article V push, for promoting non-intervention and Ron Paul's 2 Presidential campaigns, published "The Liberty Amendments" book. Suddenly Article V was worth enough trees to print 600,000 copies. Now comes Levin, who had taken to threatening to "go after his [my] family" over my constitutional research into the lying fraud- Ted Cruz's – ineligibility for President, throwing "all-in" with Donald Trump.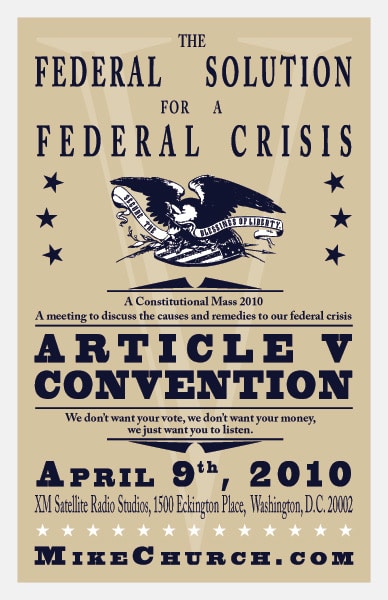 I only bring it up because many of you followed this story all those years and have earned an update: Are you now convinced that the triumvirate of what I call the "Talk Radio Mafia" was/is completely in it for the GOP, the money and the perpetuation of the "conservative" brand business model and little else? To those who will shout "jealousy… hatred…etc" I respond: how do you expect the political/parasite class these men allegedly police and forcibly hold the soles of feet to searing fires to; to act ethically when the "watchdogs" have no ethics and are indeed enriched by the parasite's perpetuation?
It is nice work if you can find it, but for those refusing this oratory & literary larceny and trying to live/work ethically, as Paul McCartney once said (of John Lennon's murder) "…drag init?