Podcast: Play in new window | Download | Embed
Subscribe: Google Podcasts | Email | RSS
Mandeville, LA – We receive a lot of compliments on our Founding Father Films features about the Declaration and the Constitution and the Spirit of '76-The Story continues, our latest addition, is no exception.
Now, you can sample a FREE TRACK from "The Spirit of 76-The Story Continues"! ENjoy this FREE, 10 minute long, sneak peek behind Mike Church's epic telling of the originas & meaning of the Second Amendment to the U.S. Constitution.
This 73 minute long romp through the early days of the Constitution is a must-listen feature for every Constitutionalist and gun owner in the United States. Here is customer Craig Silverman.
"Dear Kingest of all Duders in our Great Dude Nation,
Greetings and felicitations, I do hope this letter finds you well.. As owner of #23 of the So76, The Story Continues documentary, I humbly thank you from the bottom of my heart for your inspiring historical certitude and factual representation. As a formerly aligned Democrat and now an unplugged from the matrix little [r] republican, I am compelled to thank you for your steadfastness and great attention to specifics and detail.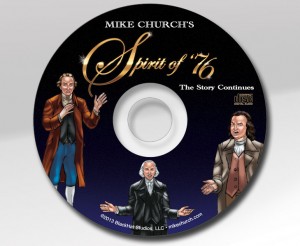 Earnestly,
Craig S.
Thanks, Craig, I appreciate your enthusiasm for the project and your letter. Please help us spread the word of the great works kept hidden in plain sight, from Founding Father Films.