Mandeville, LA – The plot lines of "What Lincoln Killed-Episode I" detail the NORTHERN states attempts to secede and form a Northern Confederation during the Jefferson & Adams Administrations. As I point out in WLK, 45 years later the sons of Madison & Jefferson (figuratively speaking) actually went though with their secession acts which impelled northern states to boil over with 70 years of pent up frustration. Chuck Thompson is a travel writer who has traveled the country extensively determining the there is too great a divide between the North & the South so the two sides should part company.
secession = treason, which, (i hope) is still punishable by death…besides, it isn't a geographical issue, but about the ignorant, fascist morons who populate all regions of our GREAT country, north OR south…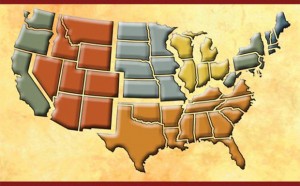 "Here you go, you have to live in a third-world country [the new Confederacy] with crappy education systems, no health care, and a government of snake handlers?"
Thompson is interviewed by Slate's Joshua Holland, and arrogant, bigoted man whose commentary/questions is steeped in Southern stereotypes. Holland seems to want to believe that should this secession actually occur the South will find itself starving and stupid, apparently not keeping up with todays news that Southern States are leading in new manufacturing.
Most interesting are the illiterate, hate laced comments from Salon readers, read a few and you'll know why Libs delight so in the misery their policies cause: they enjoy it.