Podcast: Play in new window | Download | Embed
Subscribe: Google Podcasts | Email | RSS
Mandeville, LA – Exclusive Audio and Transcript – If you don't want to be a citizen of the world, if you're tired of being told you have to subscribe to the UN's Agenda 21 and this, that and the other from the United Nations and the European Union and all that stuff, then get out of it.  Lead the way.  Of course, the Constitution, that glorious document, provides us all the methodology needed to accomplish this.  This is within your power, my friends.  You're told that it's not because to break up the party is to take the money and the power back from those that continue to, in a corrupt fashion, steal it from you and steal it from our children on a daily basis.  So I say to those that are bitching about how Chicago is rotten and how Chicago screws up Illinois politics: secede from them. Check out the rest in today's audio and transcript…
Begin Mike Church Show Transcript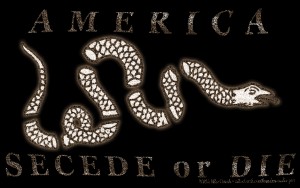 Mike:  I want to go back to the angst from the caller from Nebraska and this situation we seem to be stuck with.  If we're going to turn back and look back historically at what the founding generation, and I would even suggest that the two generations after the founding generation, until Lincoln killed that spirit of '76 inside of them and made the right of choosing your own form of government some kind of crime in the eyes of some of you lunatics out there and the Lincoln lovers, before any of that happened, history shows us it was a common practice to divide states, even large states — the states weren't always in the shape they're in today — divide states into smaller polities.  This was to better administer the services and forms of government.
There were, obviously, differences between the people that lived in the northern part of the Dakota and the southern part of the Dakota, thus you have two today.  There are obviously differences from those that lived in the western part of Virginia and Virginia.  That's why you have West Virginia, ironically seceded and carved out of Virginia illegally by President, the tyrant, Lincoln.  This was why the people west of the Blue Ridge Mountains in Virginia, all the way to the Mississippi River in what you know today as Kentucky, decided that they wanted to have their own state.  They wanted to elect their own United States senators.  They formed that state out of the bosom of Virginia.  As a matter of fact, any one of you that lives in Kentucky, you probably know this better than I.  I've only traveled Kentucky twice in my life and I marveled at the names of the counties.  You can't swing a dead cat near Lexington, Kentucky without hitting a county that's named after a Virginia farmer: Madison County, Henry County, Washington County, Jefferson County, Taylor County, Randolph County.
GET IT NOW: Get NEW "Secede or Die" t-shirt now AND receive a 15% discount when you type in malarky at checkout!! mikechurch.com/founders-tradi…

— Mike Church (@TheKingDude) October 12, 2012
The entire of the country that we know today was carved out of larger bodies that formed themselves into smaller, sovereign entities.  Folks, this is not an option.  This has to happen.  It is ridiculous to me, absolutely unconscionable that we don't have the critical thinkers out there that are leading the way on this.  Why aren't there leaders in southern Illinois demanding that Chicago leave them alone?  Why isn't that happening?  Why aren't you people in New York marching on Albany with torches and pitchforks demanding a federation convention of the State of New York to figure out how to divvy the state up?  Who cares if Congress doesn't admit you back into the union.  You're probably better off.  You divide the northern part of New York as Bill Kauffman the author wants to do, into the State of Iroquois.  You have the Adirondack State, Long Island.  You could just take New York and you could have the European Union.  You could have 15 different polities there.  My point is not to dwell on how this happened but to encourage the debate to start over it so it can happen.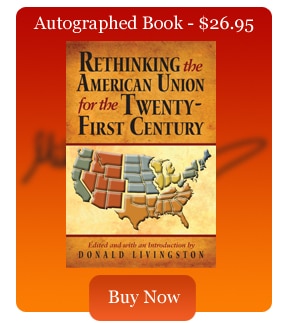 The reason I bring this up, we had this report yesterday that ObamaCare has begun to work its horrors.  Since it has begun to work its horror, a new study out there says it's already cost $27.6 billion and killed 30,000 jobs.  There are many of you out in rural areas and smaller-scale suburban areas that want nothing to do with the city-dwelling folks and their clinics and their HMOs and PPOs and all that.  You want Doc Hollywood.  You want Michael J. Fox, Doc Hollywood.  You want Marcus Welby, MD.  You can't have him as long as you have ObamaCare.  Right now, the Senate is divided into 50 states' worth of senators, 100 senators.  Just imagine for a moment, since illegally, in my opinion illegally, the Congress stopped apportioning the House of Representin' according to the census, which they are supposed to do every time you have a census.  They fail to do this every decade since 1930.
Since they won't do that and Congress won't divvy its own house up, there's another way that you and I can do this.  We can do this by dividing our states up, and then each new state — as I said, if they don't admit us into the union, glory be, oh happy day — is then accorded two brand-new United States senators.  Just imagine the St. Tammany Republic here where I live in southeastern Louisiana, Western St. Tammany, Eastern St. Tammany Parish, Washington Parish, Tangipahoa Parish.  We might let parts of East Baton Rouge Parish and maybe Ascension Parish in.  No, scratch Baton Rouge.  You're on your own.  Just imagine that you have your own two United States senators.  All of a sudden, after we get done divvying the power up and after we kick the inner cities and sentence them to suffer under the silly redistribution of wealth that they thought was their ticket to utopia, when you can't suckle off the farmers and the suburbanites anymore in your little inner cities, what's going to happen to them?  You'll either get back to being productive, you'll get back to being classy, you'll get back to being virtuous or you'll perish.  You'll be third world.  People will leave in droves.  This is the natural course of things.  This has to happen, and it will happen.
The best way for it to happen is for people, good American citizens, or good citizens of whatever new republic or federation is founded, to lead the way.  Do it under your terms, not the terms that someone wants to impose on you.  This is the manner of political thinking that would characterize a Jeffersonian, ladies and gentlemen.  If I sound shocking to you, I'm basically repeating things that I have read the Jeffersonians, and yes that would include Thomas, say and write and advocate when they were still alive.  This is what makes up good [r]epublicans.  If you're wondering why I say this show administers daily doses of the founders red pill, it does.  What's the founders red pill?  Teach republicanism.  Republicanism is the closest thing to a perfect commonwealth form of government that you're going to find.  It's not perfect and it requires eternal vigilance in its administration to preserve the people's liberty, but it is the best form, handed down all the way from Athens, now today to what new republics form in Europe where they had the good sense to form their own republics.  Why isn't the United States leading here?
If you don't want to be a citizen of the world, if you're tired of being told you have to subscribe to the UN's Agenda 21 and this, that and the other from the United Nations and the European Union and all that stuff, then get out of it.  Lead the way.  Of course, the Constitution, that glorious document, provides us all the methodology needed to accomplish this.  This is within your power, my friends.  You're told that it's not because to break up the party is to take the money and the power back from those that continue to, in a corrupt fashion, steal it from you and steal it from our children on a daily basis.  So I say to those that are bitching about how Chicago is rotten and how Chicago screws up Illinois politics: secede from them.
End Mike Church Show Transcript