Podcast: Play in new window | Download | Embed
Subscribe: Google Podcasts | Email | RSS
Mandeville, LA – Exclusive Audio and Transcript – So the purge has begun.  Ron Paul is no longer around.  He will serve his final days, they have to be this month, as the debate over the fiscal cliff or whatever it is these clowns are talking about.  In order to get a bunch of yes men, a bunch of Eric Cantors, a bunch of Paul Ryans in place that will rubber stamp whatever it is that Boehner's vision for spending of trillions of dollars that we don't have in place to vote yes on these things, you've got to get rid of guys like Justin Amash.  This is a badge of honor, Representative Amash.  You have now been singled out as actually caring about your oath of office. Check out the rest in today's audio and transcript…
Begin Mike Church Show Transcript
Mike:  Severing political bands that connect us with another is on the tapis, as John Adams might say.  You people out there that think that the Republican Party is going to save you and that it is on your side — that's not to say that those of you that are lifelong Republicans should just bail immediately on the party and stop the effort to try to make it see the light.  It's not going to pay any dividends or fruit when it comes to John Boehner and when it comes to Mordor on the Potomac River.  This is almost exactly what happened in the 1850s that led to the last major political crisis and realignment, almost exactly.
There is no representation in the people's house in Washington.  You can't get anything done, you can't stop anything.  You live in mortal fear of what it is it's going to do to you.  This is exactly what prompted the southern states to break away and sever the political bands which had connected them with another, because they were doing it to preserve republicanism.  Were some fighting for slavery?  Yes.  Was that the majority opinion?  No.  See my reading of Michael Holt's Political Crisis of the 1850s last week.  The transcript is still on the website.  I got some shocking news here today.  AG, did you see this headline?  "Representative Justin Amash to lose seat on House Budget Committee."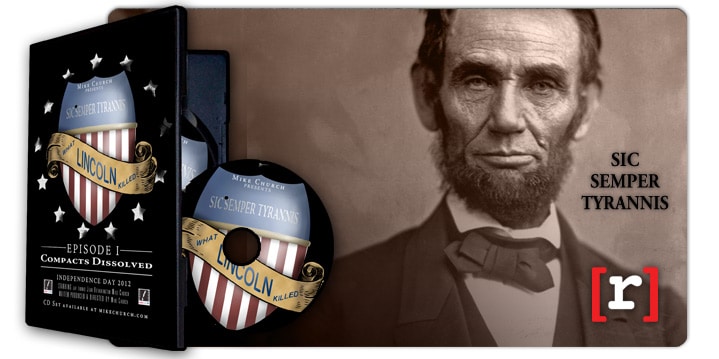 AG:  I had not seen that one, no.
Mike:  Thank goodness for Twitter today.  Thank you to whoever it was that tweeted it out.  The Boehner purge, now that Ron Paul is leaving the House of Representin', Boehner can now safely purge and can now move into the irrelevant recesses of the House chambers those that were like Representative Paul, those that did not go along with the ever-expanding big Government, big Warfare State, big Welfare State brand of republicanism and their bellicose foreign policy and bellicose — meaning with a point, Latin for point — meaning those that don't go along.  They're not toeing the line.  Remember how we were told to toe the line during the campaign?  Men like Rep. Amash won't toe the line.  This is according to the Detroit Free Press newspaper.
AG:  Roll Call has a good story on this as well, detailing these "rebellious right-wingers" that are now being punished by Boehner.
Mike:  Those of you that thought that Boehner — by the way, there's no A in that's name but he is an A.  Those of you that thought that Boehner was going to see the light and don his shining armor, his shield and his lance and was going to do mortal fiscal battle with the dark lord of fiscal recklessness and irresponsibility, Darth Obama, you have another thing coming.  Ron Paul is not around as a presidential candidate and as a force to be reckoned with who can make those telephones ring in Washington, DC and who can alert people to this.  However, the little ol' Mike Church Show here on Sirius XM is here.  This is the story:
[reading]
U.S. Rep. Justin Amash has made a point of charting his own course in Congress. It may have cost the west Michigan Republican a spot on the House Budget Committee, however. The Washington-based publication Roll Call cited multiple sources Monday night saying that Amash, of Cascade Township, was one of a handful of members moved off prominent committees by the Republican Steering Committee, which makes committee assignments. House Speaker John Boehner largely controls the committee and the move was seen by Roll Call as a "tough message" to conservative members who had previously balked at leadership stances "ahead of the looming vote on the fiscal cliff deal.
Amash, 32, just won his second term by defeating Democrat Steve Pestka in the Nov. 6 election. During his first 2-year-term in office, Amash established himself as a libertarian and independent, refusing to accept the Republican leadership line – including when he voted against his own committee's budget proposal – in cases where he didn't believe leadership went far enough in reducing spending. [Mike: Well, they didn't and he's correct.] There was no word on what committee Amash might end up on. According to Roll Call, Reps. David Schweikert of Arizona and Walter Jones of North Carolina were removed from the House Financial Services Committee and Amash and Rep. Tim Huelskamp of Kansas lost their positions on the Budget Committee. Huelskamp reportedly lost his place on the House Agriculture Committee as well.
[end reading]
Mike:  So the purge has begun.  Ron Paul, as I said, is no longer around.  He will serve his final days, they have to be this month, as the debate over the fiscal cliff or whatever it is these clowns are talking about.  In order to get a bunch of yes men, a bunch of Eric Cantors, a bunch of Paul Ryans in place that will rubber stamp whatever it is that Boehner's vision for spending of trillions of dollars that we don't have in place to vote yes on these things, you've got to get rid of guys like Justin Amash.  This is a badge of honor, Representative Amash.  You have now been singled out as actually caring about your oath of office.  Representative Jones, you have now been singled out as actually caring and taking seriously your oath office, which John Boehner and company do not take seriously.
Ladies and gentlemen, this is exactly what I told you was going to happen, that Boehner was going to lead the GOP to the exact same station in life that they had left previously, that he was not going to do battle with Obama, even though the House appropriates the money.  No money can be spent without the House appropriating it.  The president cannot spend a dime unless the House appropriates it.  The purge — that's what this is, a purge — of those that may suggest and may vote against profligacy, waste, violations of oaths of offices, that may stand up and say, "Should be talk a bit about the Fed and monetary policy while we're here?" and against all of what it is that leviathan has become, those that would raise their voice against it in the House of Representatives have now been told, [mocking] "Sit down and shut up.  You and your merry little band of rabble-rousers, you have worn out your welcome at Boehnerwood, sir."  How do you like that?
End Mike Church Show Transcript