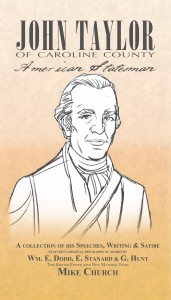 Mandeville, LA – The End of 'Murican Government? What If It Never Existed!? – The question of what is sovereignty is one that will not roll off the tongue of 90% of our fellow citizens and will not even enter the barren intellects of 99% of our elected class. That does not mean that the matter is irrelevant nor does it mean that concluding the matter correctly is impossible. Alexander Salter tries to answer the question of what is sovereignty and how the 'Murican Government treated of it.
"The current election cycle has not suddenly revealed, so much as it has steadily exhibited, a long-festering rot in the body politic. It may be time to face an unpleasant truth: the nature of political power in the United States renders a constitutional, federal republic an unenforceable structure of sovereignty. If we truly wish to keep—or rather, restore—a structure of political property rights conducive to liberty under law, we must first figure out why."
Salter correctly concludes that the Constitution could not possibly have established a national sovereignty because the entity could not have been made to be sovereign. John Taylor of Caroline, aptly and with finality demolished the concept of the Constitution granting a sovereignty to 'Muricah.
"The word America is used to designate the quarter of the globe in which the recited states were established, and not to designate a nation of Americans. A league or union of the kingdoms of Europe for limited objects, distinctly reciting the name of each kingdom, would not have created a consolidated nation of Europeans. Suppose in such a union, the phrase, "We, the people of the united kingdoms of Europe," had been used, would it have destroyed the several sovereignties uniting for special purposes, and have consolidated them into one kingdom?"