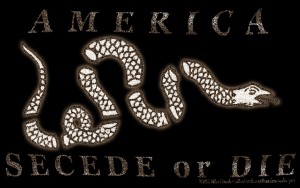 Mandeville, LA – On Friday's radio show on Sirius/XM a caller asked me about reciting the Pledge of allegiance at the start of his day with his sons. I informed him that the "Pledge of Allegiance" was written by a Socialist by the name of Francis Bellamy. The Pledge was concocted as a way to strip individuality from the States and the people with warm-fuzzy-fake patriotism. There has been no "republic" to speak of in any meaningful sense of the word since the 1820's. The "indivisible" part directly contradicts the true interpretation of the Constitution as a compact among States. The States acceded to the Constitution meaning they can secede from it as well.
My friend and scholar Stephen Klugewicz explains the fraud that is the pledge very well.
"Ah, the Pledge of Allegiance: written in 1892 by socialist Baptist minister Francis Bellamy to encourage unquestioning devotion to the Almighty American State preserved at gunpoint by Abraham Lincoln on the corpses of 620,000 Americans ("indivisible"– take that, you unrepentant, disloyal, un-American secessionists!). Bellamy worked with the National Education Association (!) to have the pledge said in all public schools, partly in an effort to undermine the authority of Catholic parochial schools, which dangerously taught devotion to God above State.
If the Pledge's origins do not trouble you, take a look at the salute that American school children originally rendered to the flag—that is, until World War II, when the similarity to the Nazi "Sieg Heil!" salute made Franklin Roosevelt a tad bit uncomfortable. Of course, the similarity between the salutes is not coincidental, the intent of both rituals being to elevate the State above the individual."
Then there is this from the Cato Institute
"From its inception, in 1892, the Pledge has been a slavish ritual of devotion to the state, wholly inappropriate for a free people. It was written by Francis Bellamy, a Christian Socialist pushed out of his post as a Baptist minister for delivering pulpit-pounding sermons on such topics as 'Jesus the Socialist.' '
So when you are confronted with the suggestion to rise and say the "Pledge of Allegiance" consider the source and the purpose of this salute to nationalism that has absolutely nothing in common with The Spirit of '76, the U.S. Constitution or the conservative tradition.