Podcast: Play in new window | Download | Embed
Subscribe: Google Podcasts | Email | RSS
The Spirit of 76 – Compleat! The greatest story NEVER told finally gets an extension with new, never before material added! After the U.S. Constitution is drafted in Philadelphia's Independence Hall, Patrick Henry, George Mason and other Virginia patriots are heroically trying to stop ratification of the U.S. Constitution. Why? Find out in This Feature!
Preview: Patrick Henry pours cold water on the Constitution as it was originally written by the Founding Fathers
Preview: Patrick Henry demands to know "Who authorized [James MAdison & co] to speak the language of 'We the People' Instead of We the States & thus begins his opposition to the Constitution
Preview: Was sabotage to blame for the failure of New York & Virginia to unite in opposition the the Constitution's ratification!?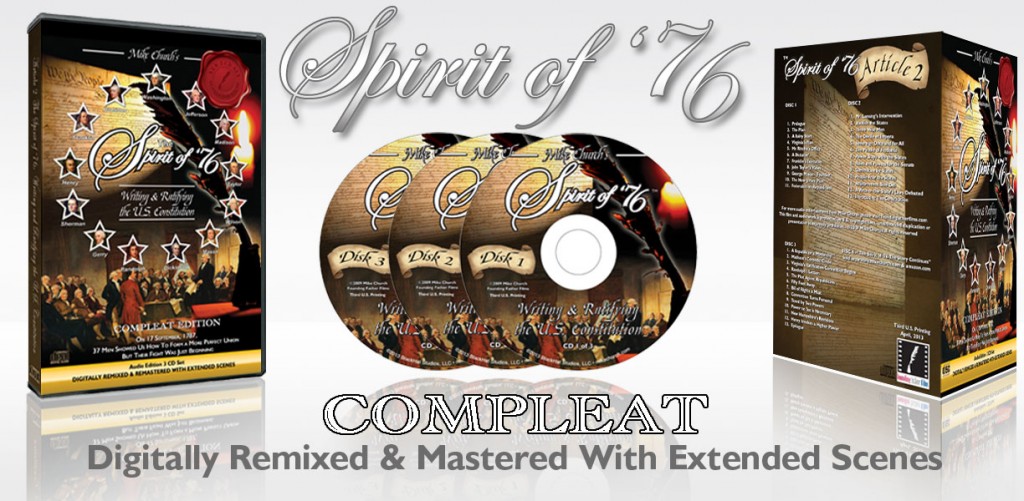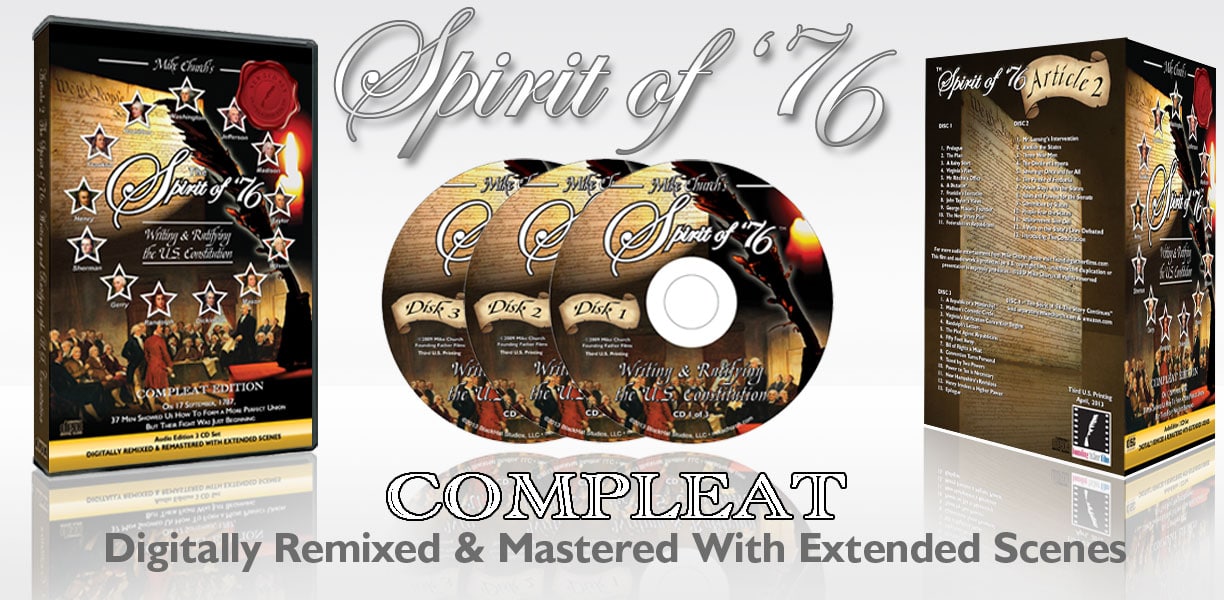 "The Spirit of 76" tells the real story of the Founding Fathers writing and ratification of the Constitution including the world's first portrayal of the most important yet untold piece of the story: the Virginia Ratification Convention and the patriot Patrick Henry's "manly opposition". Henry who made famous the phrase, "Give me liberty, or give me death" has a starring role in the feature. His arguments against ratification, beautifully portrayed by voice actor Jean Hetherington, sound more like prophecy than they do debate.
This feature will transports you back in time to Independence Hall and see it with Emmy-award winning actor Jay Thomas and an ensemble cast of some of radio's best-known voices. "I was always extremely proud of what I achieved with 'The Road to Independence' and "Fame Of The Fathers,'" Church noted. "But it was time to take things to the next level with 'The Spirit of '76, this is historic cinema."
Mike directed the entire project and Dr. Kevin Gutzman of "The Politically Incorrect Guide to the Constitution" served as historical consultant so accuracy is assured. From the accurate descriptions of weather conditions on certain days of the conventions to the actual words spoken as dialogue, this feature is as historically accurate as any feature production has even been AND it is entertaining.
Our story begins in the office of Richmond Enquirer newspaper publisher Thomas Ritchie and the next 2:45 minutes transports the listener to Independence Hall, Washington DC, the Graff House where Jefferson wrote the Declaration, New York City and Richmond's New Academy of Arts & Science on Shockoe Hill.
Digital Download Set Includes:
3 7 tracks taken directly from the 3 CD set "Spirit of '76 – COMPLEAT Edition"
Stereo Sound – Digitally Remixed & Remastered
All printed materials included as a printable .pdf
214 Minutes