Podcast: Play in new window | Download | Embed
Subscribe: Google Podcasts | Email | RSS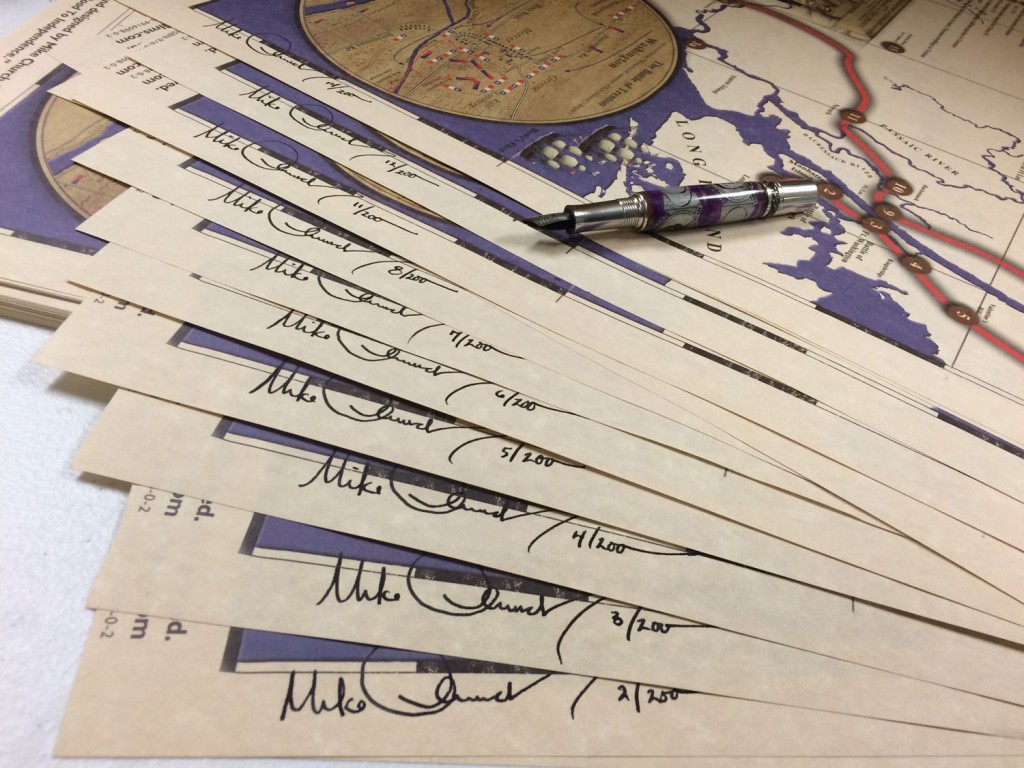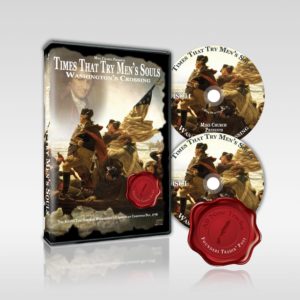 Washington's Crossing Limited Edition CD &  Parchment Map set – Great, rare, collectible gifts for patriots this Memorial Day!
Mandeville, LA – Times That Try Men's Souls – Washington's Crossing.  New Feature from Mike Church debuted on SiriusXM December 23, 2013. 2 CD set with original, one of a kind battle map, on sale and in stock NOW, just in time for Memorial Day listening on the Veritas Radio Netwrok's CRUSADE Channel! Memorial Day, 2016, Broadcast Times:
UPDATED – Please read and pass along the Press Release and Media kit FFFilms has prepared for Times that Try Men's Souls (Click to download/view the Times_that_try_Mens_Souls_Press_Package)
The writer/director and star of The Spirit of '76 and What Lincoln Killed is back with his latest feature about the Founding Fathers, Times That try Mens Souls – Washington's Crossing a thrilling new docudrama about the real events of 1776 and George Washington's famous crossing of the Delaware river on Christmas Day. Co-starring Mike's daughter Maddie Church Times That Try Mens Souls features the voice talent of George McNerlin who returns as George Washington. McNerlin has been Church's choice for Washington since The Spirit of '76.
Your experience with the The Story of Times That try Men's Souls begins with these previews…
Is the famous painting of Wasington's Crossing more urban legend than real history? What REALLY happened on Christmas Day, 1776?
Ben Franklin tells Howe the States are Independent & only They can rescind or surrender (destroys the Lincoln myth of 1 indivisible blob of Americaq created by Declaration)
Even more audio previews for Founders Pass members, login or signup for a Founders Pass today [private FP-Monthly|FP-Yearly|FP-Yearly-WLK|FP-Yearly-So76]
Washington resolves to strike back at the Empire
Thomas Paine recounts Washington's miraculous retreat across NJ
The Crossing's courageous plan is launched on Christmas Day, 1776
[/private]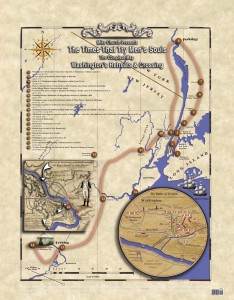 The story opens with the history of Emanuel Leutze's famous painting of "Washington's Crossing" and the miraculous retreat Washington had to execute from Long Island, across Manhattan, and nearly half the length of New Jersey. Along the way, Washington loses almost 2/3 of his army to KIA's desertion, capture and failure to reenlist. It is only by "Providence" that he crosses the 6th river in his retreat just as Lord Cornwallis is about to capture him. The story of the events that inspired The Crossing are exciting and new to most listeners, plus Church reveals the identity of the famous "widow that saved the Revolution" of Mount Holly. The Widow had detained the Hessian Count Donop and prevented him from being in proper position on Christmas Day, a feat that spared Washington from certain defeat at Trenton.
Making American History come alive for you the old fashioned way. There have been few posts here this week because Maggie and I have been busy putting each and every signed, numbered, Limited Edition copy of "Times That Try Men's Souls" together for many of you. First I have to open and sign each CD case, in sequential order 1/300, 2/300, 3/300 etc. I must then place them in a box in that order, more on that in a moment.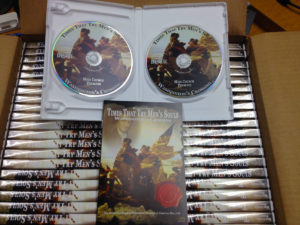 Then I sign, number and date each Certificate of Authenticity and stack them in perfect sequential order. These cards are then, in order, inserted into the CD cases one at a time insuring all the numbers match. Then it's onto the Washington's Crossing and Retreats Map. Each of those must be signed and numbered in a similar fashion to the CD case. Repeat this process 300 times. When all those components are finished then onto shipping! Maggie must now place the map with matching serial number into the oversized shipping envelope along with the CD case which is placed into a protective envelope for shipping. She then adds the packing list, insures the shipping label and other items ordered are correctly identified and going to the right customer, crease, tape and ship. You then receive this product, painstakingly made and packaged by hand in the United States at a every step of the process. We think this is a service and a product that is worthy of your consideration which is why each one bears the Founding Father Films logo. Between the 2 of use we were able to ship over 100 copies today and have over 125 copies ready for final assembly tomorrow. Does someone want to call "How It's Made" or Mike Rowe for us!?
ORDER YOUR COPY FROM THE FIRST U.S. PRINTING OF TIMES THAT TRY MEN'S SOULS WHILE SUPPLIES LAST
12 March- All the pieces necessary to this HANDMADE, 1 of a kind limited edition production are complete and at the manufacturers facility. IF you ordered this item it will be in-house for Mike to sign and number circa March 28th.
UPDATED, 19 February, 2014 – Check out the demo of the "Retreat and Crossing" map I have been toiling over for 5 weeks now. The section you see here is about 1/4 of the final 18 x 24 poster and shows the in-progress detail of Trenton NJ c.1776 and the events of Christmas Day and the 26th of December, 1776. See the whole map and order the 2 CD set, 1st Edition here.