Mandeville, LA – I was researching a guest's bio, Mary Eberstadt, when I came across a review of her book "It's Dangerous to Believe" at the New American website, by Steve Byas. Byas's review is fair and a good read but in breaking my own rule, (I read some of the comments) I was sickened and broken hearted to read the stultifying and wildly inaccurate statements from "Christian" members of the Judgement Pornosphere™. Take this pearl of perfidy from the scandalously named "Red Pill Please".
"And of course Tocqueville's book was discussing Protestant believers. America's first settlers who originally sought refuge from religious persecution were talking about the Catholic Church!"
Any person with an 89 level IQ and an ability to read something other than The Walking Dead comic books would know that the English who fled "persecution" couldn't have been fleeing Catholics because practicing Catholicism in England during colonial American times was illegal; made so by Henry the VIII and then viciously made lethal by his bastard daughter Bloody Bess-Queen Elizabeth. That's not a theological "opinion" or "belief" either, that is a historical fact that even the Church of England now admits but was widely known by contemporary authors as well modern scholars as I show in the upcoming The English Reformation. Joseph Pearce wrote the introduction to the book and offers this nugget on the Catholic "persecuters".
"Although it is not possible to pay due tribute and homage to the hundreds of martyrs who laid down their lives for God and neighbor during the Tudor Terror, it would surely be a sin of omission to fail to mention St. Margaret Clitherow and St. Anne Line, two holy women who were martyred for their faith during Elizabeth's reign. These martyred saints are but a handful of the many holy souls who chose death and the glory of martyrdom over submission to a secularist tyranny which had sought to destroy religious liberty. Their story is all too little known in our age of ignorance and arrogance."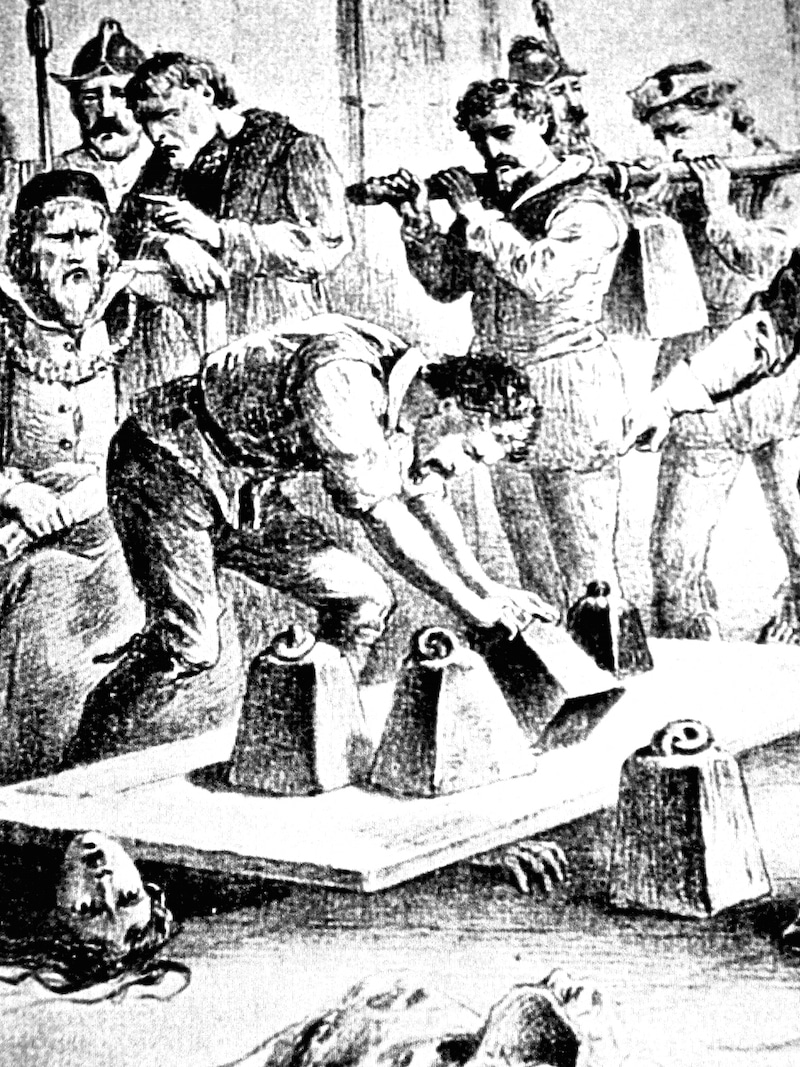 St Margaret Clitherow was martyred in 1586, James town was settled in 1607 while the Supremacy laws that were used to kill her were still viciously in effect. Does it sound like the English speaking, colonial Protestants were fleeing "Catholic persecution"? The noted historian and priest Jean Marie Stone identifies the chief cause of this diabolical urban legend as the author John Foxe, the Protestant propagandist who is the principle source most of the lies and errors in the history of the English Reformation.
"But more damaging than any other is the criticism which Foxe receives at the hands of Mr James Gairdner, the fullness of whose knowledge is matched only by the judicial manner in which he deals with the martyrologist's stories as he encounters them in his own history of him [p. 38] ; he manipulates it to suit his purpose [56] ; he counts as martyrs offenders of all kinds [120]; he 'was above all things credulous' [131] ; he tells stories, the falsehood of which may be gathered from his own relation [ibid] ; he suppresses facts furnished by the authorities upon whom he draws [133]; he insinuates what is utterly false [135]; he evidently wishes his readers to understand what he does not venture openly to say [220-21]; he prejudices readers by irrelevant gibes [271]; he has made people believe what is untrue [333] ; he was quite as prejudiced and unfair as the notorious Bishop Bale [342] ; his narrative has been exposed as untrustworthy by reason of its bias, but has not even yet been subjected to complete and thorough criticism [352]. In consequence of all this, says Mr Gairdner, Foxe has given a false colour to the history of the times, and especially to the sentiments and motives of the persecutors."
Foxe may have been the original source of much of the urban legends about who was killing who in Reformation England but the ensuing 400+ years have not exactly seen explorations of the Truth of the events. Thus, like George Washington chopping down cherry trees and lying about it most of these "killings" Catholics are accused of perpetrating never happened and even in the case of Mary Tudor "Bloody Mary" as Foxe et al erroneously call her, were not targets of a Protestant extermination campaign but were actually executed by the civil authority under heresy laws enacted hundreds of years previously. But don't tell that to Ms. Marilynne Mellander:
"Thanks for pointing out that the Catholic church has killed millions of Christians throughout the ages…I'm tired of secular society lumping the Catholic church together with Bible believing Christians."
Oh if only that were true! If there is one form of bigotry that is legal, safe and practiced every minute of everyday it is anti-Catholic bigotry, singularly held out over and above "Bible believing Christians" for any and all of her mortal, inevitable follower's peccadilloes. Besides the oft-repeated, scandalous insult, that Roman Catholics don't own, cherish or read the Bible, the Bible comprises the vast majority of the Latin Rite Mass which begins with the beautiful plea for God's mercy and cleansing of sin from Psalms 50. Asperges me.
"Thou shalt sprinkle me with hyssop, and I shall be cleansed: thou shalt wash me, and I shall be made whiter than snow."
Do these brothers and sisters in Christ, separated from communion with us by Luther's lingering deceit, not know that the Catholic Mass also ends with the Gospel reading from St John's Gospel Ch 1, 1-14!?
"In principio erat Verbum, et Verbum erat apud Deum, et Deus erat Verbum….Et Verbum caro factum est, et habitavit in nobis: et vidimus gloriam ejus, gloriam quasi unigeniti a Patre plenum gratiae et veritatis." (In the beginning was the Word, and the Word was with God, and the Word was God. …And the Word was made flesh, and dwelt among us, (and we saw his glory, the glory as it were of the only begotten of the Father,) full of grace and truth.")
I would ask Ms Marilynne if the Catholics, reverent and solemn, listening to that Gospel in Mass, then dropping to their knees for Et verbum caro factum est, And The Word was made flesh, are not "Bible believing Christians"? The tragedy of this continuing schism is that it is The Word made flesh that is suffering through all this pride-driven rage of Christians, His flock, against Christians, ergo His children. Any Catholic that would say of our Protestant brothers and sisters what they say of us is violating the teaching on the 7 Acts of Mercy which include: "COUNSELING THE DOUBTFUL, and INSTRUCTING THE IGNORANT". The charitable Catholic should always consider himself IGNORANT but for the Grace of God and keep in prayer for those we are separated from in Holy Mother Church. Judgement Porn™ serves but one master, the Prince of this world.