Podcast: Play in new window | Download | Embed
Subscribe: Google Podcasts | Email | RSS
The Federal Constitution Reserved The Power To Quarantine And Immunize To The States, Why Don't "Conservatives" Understand & Promote This?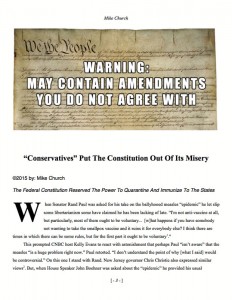 Editor's Note: This is the final, complete essay that originally appeared in the Daily Caller of 04 February, 2015. This edition was compiled exclusively for Founders Pass Members. Not a member!? Why not join for a mere .17¢ per day and gain access to this eBook AND the audio edition, plus dozens more of Mike's essays just like it? Join Now or Take the Tour.
Mandeville, LA – When Senator Rand Paul was asked for his take on the ballyhooed measles "epidemic" he let slip some libertarianism some have claimed he has been lacking of late. "I'm not anti-vaccine at all, but particularly, most of them ought to be voluntary… [w]hat happens if you have somebody not wanting to take the smallpox vaccine and it ruins it for everybody else? I think there are times in which there can be some rules, but for the first part it ought to be voluntary."
FOLKS, a message from Mike – 

The Clip of The Day

videos,

Project 76 features

,

Church Doctrine

videos and everything else on this site are supported by YOU. We have over 70, of my personally designed, written, produced and directed products 

for sale in the Founders Tradin' Post, 24/7,  here

. You can also support our efforts with a 

Founders Pass membership

 granting total access to years of My work for just .17 cents per day. Not convinced? 

Take the tour!

 Thanks for 18 years of mike church.com! – Mike
HERE'S YOUR FREE AUDIO PREVIEW OF THIS PROJECT '76 WEBISODE – TO HEAR THE ENTIRE EPISODE JOIN FOUNDERS PASS NOW!
[private |FP-Monthly|FP-Yearly|FP-Yearly-WLK|FP-Yearly-So76|Founding Brother|Founding Father|FP-Lifetime]
[/private]
This prompted CNBC host Kelly Evans to react with astonishment that perhaps Paul "isn't aware" that the measles "is a huge problem right now." Paul retorted. "I don't understand the point of why [what I said] would be controversial." On this one I stand with Rand. New Jersey governor Chris Christie also expressed similar views. But, when House Speaker John Boehner was asked about the "epidemic" he provided his usual ambiguous bravado. "I don't know that we need another law, but I do believe that all children ought to be vaccinated." That's telling 'em Johnny.
This completed, footnoted essay is available in an eBook for Founders Pass Members to download, here
The 2014 edition of the 2012 "conservative" dreamboat, Herman Cain, Dr. Ben Carson, then chimed in with what I'm supposed to believe is the real "conservative" input. "Certain communicable diseases have been largely eradicated by immunization policies in this country and we should not allow those diseases to return by foregoing safe immunization programs, for philosophical, religious or other reasons when we have the means to eradicate them." I might ask of Dr. Carson, who is "we" and why shouldn't my "religious" objections be worthy of consideration? Meanwhile, "conservative" blogger Rod Dreher made a similar statement at the American Conservative website but Dreher was precise on whose baby this one is…