Podcast: Play in new window | Download | Embed
Subscribe: Google Podcasts | Email | RSS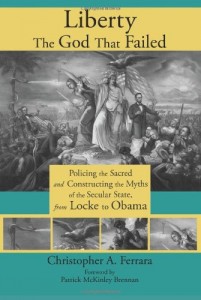 Mandeville, LA – Today we began the first in a long series of discussions on the errors of what is called "modern philosophy" but is more accurately a philosophy that just happens to be modern. Once the veneer of newness wears off the latest attack upon reason and revealed Truth the adults are left to explain to the children why they watch movies about curious George and don't watch them with Curious George? The sum of all these preposterous "philosophies" is "scientism". It is this strain of spiritual Munchausen by Proxy syndrome that contains the pseudo-philosophy "evolution". Evolution has grown to a full fledged religion which is quite humorous seeing as how its "sacraments" require believing in something came out of nothing and provide sustenance in the form of increased appetite for any sustenance one might commit to paper without fearing there will be nothing of sustenance to cook over the fire today's sustenance will surely make. Ah, but this is the progress in the "science of evolution". G.K. Chesterton captured the essence of evolution's contradictions in 1920's "Darwinism And Mystery".
"If I do personally believe in design, it is for somewhat deeper
reasons which have nothing to do with the wings of bats; and certainly
I never dreamed of demonstrating it from the wings of bats.
I never professed to trace the causes of these things at all.
I have not written a book called "The Origin of Species." I have not
conducted detailed researches or proclaimed dogmatic conclusions.
I do not know the true reason for a bat not having feathers;
I only know that Darwin gave a false reason for its having wings."
Over the next year, Chris and I will discuss various parts of the fertile argument for the beauty of Creation over the scientific farce that is the Church of Evolution.  Please check back here reguarly for our latest installment and make certain to catch Robert Sungenis on Tuesday next with the sister  to this series: Galileo Was Wrong.
FOLKS, an important message from Mike Church – The Audio Clip of The Day files, Project 76 feature presentations, Church Doctrine audio & video clips and everything else on this site are supported by YOU. We have over 70, of my personally designed, written, produced and directed products for sale in the Founders Tradin' Post, 24/7,  here. You can also support our efforts with a Founders Pass membership granting total access to years of My work for just .17 cents per day. Not convinced? Take the tour! Thanks for 18 years of mike church.com! – Mike
HERE'S YOUR FREE AUDIO PREVIEW OF THIS CLIP OF THE DAY – TO HEAR THE ENTIRE EPISODE JOIN FOUNDERS PASS NOW! FOR HUNDREDS MORE CLIPS, VISIT THE CLIP OF THE DAY ARCHIVE HERE
[private |FP-Monthly|FP-Yearly|FP-Yearly-WLK|FP-Yearly-So76|Founding Brother|Founding Father|FP-Lifetime]
[/private]