Mandeville, LA – Exclusive Transcript – The only way that I know of that you can, in a foolproof manner, remove the impediment is to create the conditions under which people are ready to separate from the impediment.  Separation is the ultimate end of the impediment.  A separation from that leviathan guarantees, unless they decide to declare war on you a la Lincoln, that you then have to actually practice the ancient and lost art of self-government. Check out today's transcript for the rest…
Begin Mike Church Show Transcript
Mike:  Eric is in Pennsylvania.  Hello, Eric.
Caller Eric:  Good morning, Mike.  Short-time listener but I love your show.  I like your logic, the things you talk about as far as our —
Mike:  Logic, what's that?  What's logic?  We don't want any of that around here.  Somebody may get a radical idea.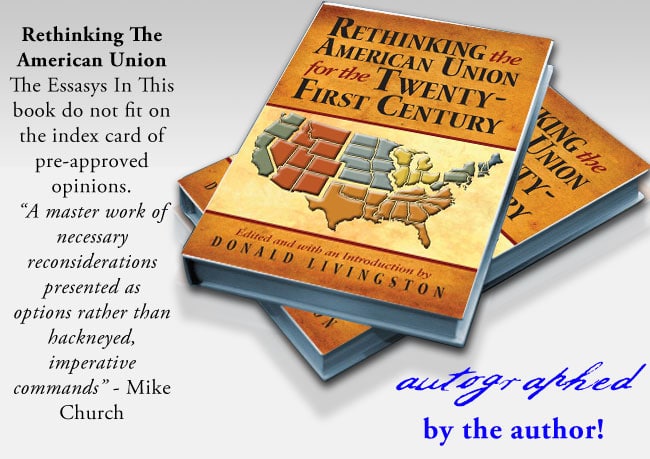 Caller Eric:  I just had a quick question.  You talk about how big the government is.  I thought the guy that was right on before me, who said if we have smaller government it's going to create more unemployment, I guess I want to go a little bit deeper.  How do we as Americans get to a smaller government?  How do we change it?  It's so big, like you're talking about.  Little old me here in Pennsylvania, how do I help do my part?  How do I help reduce our government?
Mike:  I think you have to undo the things that prevent you from being an active participant in your own republican government.  The things that impeded your entrance or your participation in those great and momentous events of our time are things like Supreme Court decisions, federal one-size-fits-all laws that are handed down from Mordor on the Potomac River that say you, citizen Eric in Pennsylvania, [mocking] "Citizen Eric, you and your town council are forbidden from asking and then answering your own questions when it comes to reproductive health," just to throw one out there.  Whatever the case may be, it doesn't matter.  [mocking] "We've decided for you and we know better because we're your elite federal overlords."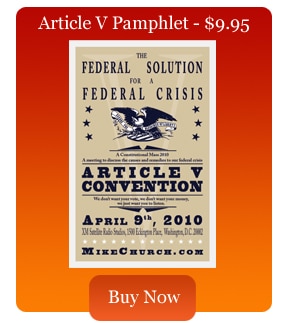 Really what it is is, number one, a will to participate, and number two, to remove the impediment.  The only way that I know of that you can, in a foolproof manner, remove the impediment is to create the conditions under which people are ready to separate from the impediment.  Separation is the ultimate end of the impediment.  A separation from that leviathan guarantees, unless they decide to declare war on you a la Lincoln, that you then have to actually practice the ancient and lost art of self-government.
Self-government also cannot exist, I do not believe, in an amoral and totally secular society.  The order part of law and order will not be sufficient to keep the people in check and then the people to keep the government in check.  There are lots of things that are standing in your way, but all you can do is work on those principles and things in your own life and in your own sphere, in your own community.  Work at them, find people that agree with you, and just accept that some of this is God's will.  We may be going through a governmental martyrdom right now and don't even know it.  It may be that there is nothing, short of what I suggested that you do, that can alter the current state of events.  We may be participating in it right now and doing exactly what is needed.  History may record that we're doing that.  I think, again, that returning to republican forms requires a moral, virtuous people.
Caller Eric:  I agree.
Mike:  We are possessed by a population that is corrupt.  Since the politicians and the appointed class are chosen from that corrupt population, you're going to get corrupt government.  Just pointing the finger at the government is not going to solve the problem.  It's not even going to mitigate the problem.  All it does is occupy time.  It just delays what needs to be done, in my humble opinion.
Caller Eric:  I hear you.  I appreciate that.  Thank you very much.
Mike:  You're very welcome.  Thanks for the question.  It was a good question.  I appreciate it.
End Mike Church Show Transcript