Podcast: Play in new window | Download | Embed
Subscribe: Google Podcasts | Email | RSS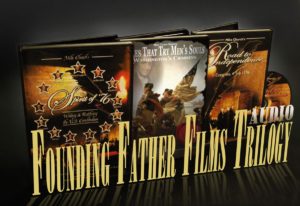 Armistice Day Should Be Every Day
©2014 Mike Church
Mandeville, LA – On December 23rd, 1783, Commander in Chief George Washington traveled to the Confederation Congress, then meeting in Annapolis MD, to resign his commission. In his speech that day, Washington noted his reasons for resigning. "I have now the honor of offering my sincere Congratulations to Congress and of presenting myself before them to surrender into their hands the trust committed to me, and to claim the indulgence of retiring from the Service of my Country."
FOLKS, a message from Mike – 

The Clip of The Day

videos,

Project 76 features

,

Church Doctrine

videos and everything else on this site are supported by YOU. We have over 70, of my personally designed, written, produced and directed products 

for sale in the Founders Tradin' Post, 24/7,  here

. You can also support our efforts with a 

Founders Pass membership

 granting total access to years of My work for just .17 cents per day. Not convinced? 

Take the tour!

 Thanks for 17 years of mike church.com! – Mike
HERE'S YOUR FREE AUDIO PREVIEW OF THIS CHURCH DOCTRINE – TO HEAR THE ENTIRE EPISODE JOIN FOUNDERS PASS NOW

[private |FP-Monthly|FP-Yearly|FP-Yearly-WLK|FP-Yearly-So76|FP-Founding Brother|FP-Founding Father|FP-Lifetime]
[/private]
An attendee of the event described Washington's exit. "The General then …bid every member farewell and rode off from the door, intent upon eating his christmas dinner at home." As we commemorate another Armistice Day, we would do well to remember that 7 of the last 9 Commanders-in-Chief have  chosen to command never-ending, undeclared wars over Christmas dinner at home for themselves and their men. With President Obama presiding over a new war in Iraq and the war-hawks in the GOP now in a majority, this will likely be the case for a very long time into the future, how sad.
Today's Armistice Day commemorates the end of World War I, the grandest and most horrifying war in the history of Earth. On the eve of the war, a sickened, nearly to death, Pope Pius X wrote the following. "The combatants are the greatest and wealthiest nations of the earth; what wonder, then, if, well provided with the most awful weapons modern military science has devised, they strive to destroy one another with refinements of horror." Pius even envisioned today's atmosphere of virtual war, where nearly every male child and most adults will role play the horrors of war and the act of killing as a game, warning of polluting the "plastic minds of children…that man must not hope for a state of eternal happiness."
That happiness will only come when an Armistice Day is what we wish everyday to be with all our vets enjoying their dinner in their own homes.
Mike Church is a New Orleans native and a radio host appearing daily on the SiriusXM Patriot Channel. He is an author and editor of "Patrick Henry-American Statesman" and is the writer and director of 7 Docudramas on American history including "The Spirit of '76" and the recently released "Times That try Men's Souls-Washington's Crossing".