Podcast: Play in new window | Download | Embed
Subscribe: Google Podcasts | Email | RSS
[private FP-Yearly|FP-Monthly|FP-Yearly-WLK]
If you're having problems playing the video, please download it, there may be an incompatibility with your browser.
[/private]
This Day In Founders History – 19 September
One notable birthday on this day in history in 1737, that of Charles Carroll of Carrollton. Carroll participated in a series of debates, by use of a pseudonym, conducted through the Maryland Gazette in 1772. After the revealing of his identity, Carroll's notoriety grew and he became a leading voice against British rule. Carroll served on numerous committees in Maryland and was a delegate to the Annapolis Convention. He then served on the Continental Congress for two years, too late to vote in favor of the Declaration of Independence, but not too late to be a signatory of the document. He signed his name "Charles Carroll of Carrollton" to distinguish himself from both his father and several others of the same name, and this is how he is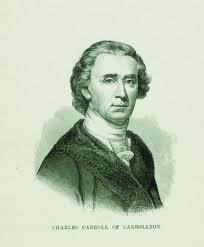 most often referred to today. Carroll outlived both Jefferson and John Adams, making him the longest-lived signer of the Declaration. Carroll went on to assist Maryland in forming the state government, was elected senator for Maryland State Senate, and served as a Senator for the first U.S. Senate. Carroll also helped create the B&O Railroad, laying the cornerstone on July 4, 1828.