Podcast: Play in new window | Download | Embed
Subscribe: Google Podcasts | Email | RSS
Will ISIS Paranoia Result in a New Bad-Guy Acronym: USA?
©2014 Mike Church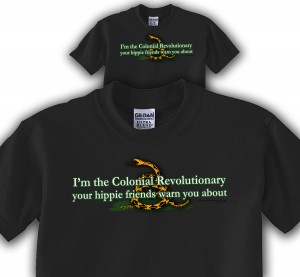 Last night, The President of the United States, to the cheers of many war-hawks, presented his "strategy" to battle ISIS, the terrorist group that moonlights as stars of their own YouTube action series that features grisly executions of Western journalists and unidentified Syrian "rebels." Claiming that "America's interests in the region" are threatened, Obama laid on the tough guy talk and even vowed to "destroy" ISIS. That would be quite an event indeed seeing as how no one knows for sure what or who ISIS is. So, like most things that the American government does these days involving never-ending war, we'll just have to take the President's word for it when the deed is done.
FOLKS, a message from Mike – 

The Clip of The Day

videos,

Project 76 features

,

Church Doctrine

videos and everything else on this site are supported by YOU. We have over 70, of my personally designed, written, produced and directed products 

for sale in the Founders Tradin' Post, 24/7,  here

. You can also support our efforts with a 

Founders Pass membership

 granting total access to years of My work for just .17 cents per day. Not convinced? 

Take the tour!

 Thanks for 17 years of mike church.com! – Mike
HERE'S YOUR FREE AUDIO PREVIEW OF THIS CHURCH DOCTRINE
[private |FP-Monthly|FP-Yearly|FP-Yearly-WLK|FP-Yearly-So76|FP-Founding Brother|FP-Founding Father|FP-Lifetime]
[/private]
If the sudden surge in ISIS paranoia that results in the beating of war-drums hasn't raised your Spider-sense, as it has raised mine, please listen to your own sense of remorse. in 2000, a Gallup poll revealed that 70% of Americans thought sending troops into Vietnam was a mistake. 13 years later, 53% of Americans believed that sending troops into Iraq was a mistake which begs the question: what in Hades is wrong with other 47%? Fast forward to this week where we find a majority of Americans are chanting USA!, USA! and ready to fire up the war-machine against ISIS, a decision their kids will be paying for when ObamaCare goes belly-up.
Journalist Glenn Greenwald sums up my thoughts on the miracle surge of ISIS-mania. "It's as though ISIS and the U.S. media and political class worked in perfect unison to achieve the same goal here when it comes to American public opinion: fully terrorize them." But what the sheople should be terrified of is their fellow citizens' lethal obsession with war and world dominance before USA! becomes, a bad-guy acronym.
Mike Church is a New Orleans native and a radio host appearing daily on the SiriusXM Patriot Channel. He is an author and editor of "Patrick Henry-American Statesman" and is the writer and director of 7 Docudramas on American history including "The Spirit of '76" and the recently released "Times That try Men's Souls-Washington's Crossing".