Podcast: Play in new window | Download | Embed
Subscribe: Google Podcasts | Email | RSS
[private FP-Yearly|FP-Monthly]
If you're having problems playing the video, please download it, there may be an incompatibility with your browser.
[/private]
This Day In Founders History – 2 August
On this day in 1776, members of the Continental Congress began signing the Declaration of Independence, with a total of 56 men signing.
August 2, 1790, the first U.S. census began, revealing a population of nearly 4 million people in the 13 states as well territories that would later become four additional states, although President Washington and Secretary of State Jefferson were skeptical of the results, believing the true count to be greater.
In 1919, Montana and Nebraska ratified the 19th Amendment to the U.S. Constitution.
One notable birthday for today, that of Pierre Charles L'Enfant, born in 1754. L'Enfant is the French-American architect and engineer who designed the layout of Washington, DC. He also served as a military engineer in the Continental Army under Major General Lafayette and later, after being wounded, as Captain of Engineers under General Washington.
Trumbull's Painting of the Signing of the Declaration of the Independence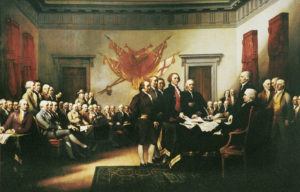 L'Enfant's Plan for Washington D.C.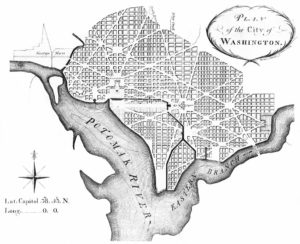 Plaque for the First U.S. Census Bureau